Singer/songwriter and Hollister native Brooke Simpson has achieved yet another milestone in her career as she landed a role in American Reparatory Theater at Harvard University's revival of the Broadway musical, "1776."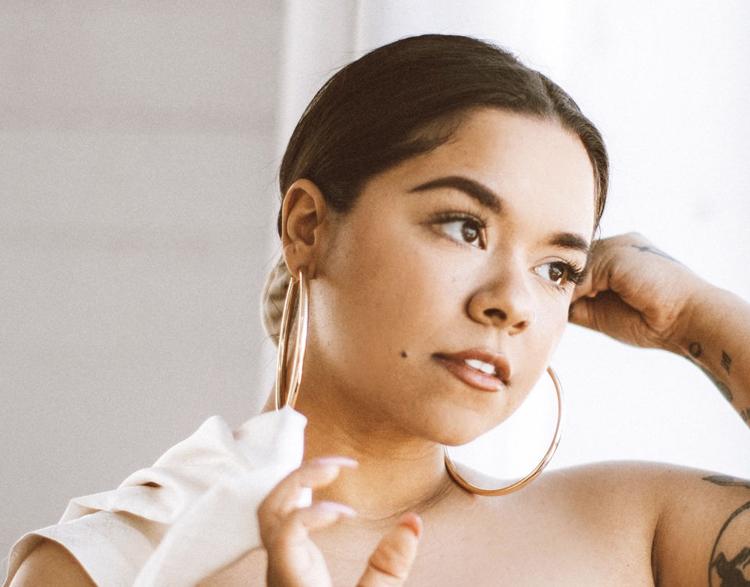 The Tony Award winning musical "1776" presents a look at the Founding Fathers of the United States through events leading up to the Declaration of Independence.
"I was so overwhelmed," Simpson said after learning that she would be making her Broadway debut. Simpson added that her celebration at hearing the news "involved a lot of jumping and screaming and 'praise breaks.'"
According to its website, A.R.T. was founded in 1980 with a focus on "producing groundbreaking work that is driven by risk-taking, artistic inquiry, and passionate inquiry." It has received a number of honors, including 19 Tony Awards, a Pulitzer Prize and a Jujamcyn Prize for outstanding contribution to the development of creative talent.
The revival of "1776" will be directed by Diane Paulus, who has served as A.R.T.'s executive director since 2008.
Simpson said that Paulus expressed interest in her talent after her appearance on "The Voice" and wanted her to participate in a reading for "1776."
Paulus praised the dedication of cast members who continue to prepare for their roles in spite of the COVID-19 pandemic, noting that they inspire an optimistic outlook about the future of theater. She described the revival of "1776" as an opportunity to reexamine an important time in history through a cast representative of today's United States while "learning from the past in order to move forward together."
"As we embark on our journey together on this production, we find ourselves reckoning with our country's history, reexamining the pivotal moment of our nation's founding portrayed in '1776' — the writing of the Declaration of Independence, a 'promissory note' that, in Martin Luther King's words, 'America has defaulted on,'" Paulus said. "Our cast includes multiple representations of gender, race, and ethnicity that allow this revival of '1776' to more broadly reflect today's American, our America."
Simpson will be playing the role of Roger Sherman of Connecticut. According to the State of Connecticut Judicial Branch Law Library Services, Sherman is known for his role in developing the Connecticut Compromise, which resolved a stalemate in the writing of the Constitution. He is also recognized as the only person who signed the Continental Association of 1774, the Declaration of Independence, the Articles of Confederation and the Constitution of the United States.
Simpson described the opportunity to portray Sherman as a great honor.
"He is one of our nation's Founding Fathers who is left out of the conversation a lot, but while researching and preparing for this role, the part he played in the American Revolution is far from small," she said. "I'm so excited to shed light on him and the part he plays in our nation gaining independence."
For Simpson, the production of "1776" is special because it provides an glimpse into American history.
"… Seeing it in today's day and age makes you reflect on what happened then and what's happening now in our country," she said. "Puts things in perspective in a beautiful way while also challenges us in many ways!"
The diversity of Paulus' cast will challenge audience members to think of the signing of the Declaration of Independence in a different light. As a member of the Haliwa-Saponi Tribe, Simpson brings to her role the perspective of a Native American woman portraying one of the Founding Fathers. 
"I feel like being a Native American woman who takes great pride in her heritage is something that helps me in this role," she said. "With my personal perspective and while also knowing our nation's history with Native Americans .. and hearing the words of a white man from the 1700s coming from an indigenous person's mouth (people who are often forgotten and left out of the conversation) in 2020 … it's going to be powerful."
Simpson cannot reveal all of the details about the upcoming musical at this time, but she loves working with a cast hailing from across the country — even if they have to conduct virtual meetings right now to keep everyone safe from the novel coronavirus.
"To be honest, I was nervous that the 'virtual meetings' would make it feel less personal and intimate, but it was the absolute opposite," she said. "Even on an app (Zoom), there were beautiful, challenging and vulnerable conversations daily." 
Simpson and her fellow cast members remain busy preparing for "1776" as much as they can without rehearsing on stage together due to the coronavirus, which has also postponed opening night until spring 2021. However, she wants all of her fans from the local area and beyond to expect something special once New York City and the stages of Broadway return to life.
"We are learning so much, and I'm just ready to share with the world what our hearts are bursting with," she said.