It will soon be Christmas and still so much to do.
Cleaning, decorating and baking
Pies, cookies, candy and coconut cake, too!
When I was but a wee one and Christmas came to our house, what a happy, magical time it was, and busy in no small measure. My little heart could barely contain its joy.
Once all the cleaning and polishing were done, the decorating began. A red cedar tree, long since found and tagged during hunting trips, had to be chopped down and dragged home. Once it was placed in a corner and wired to the wall, the decorating began. On went our one and only string of colored lights, those big bulbs, always too hot to handle — a few glass ornaments tied with tobacco twine and lots of cotton to resemble snow. The finished product a real beauty to behold.
One year we had a package of angel hair which got us children in trouble. We stuffed some of that spun glass into the slippers of our less than favorite visiting uncle and created quite the kerfuffle, resulting in his hasty departure and fears of no visit from Santa.
A door wreath was fashioned using running cedar foraged from the creek bank and wrapped hundreds of times around a coat hanger stretched into a circle. Holly, for red, was tucked in among the cedar. I don't remember a bow ever being added. Any ribbon we had was reserved for dresses Mama made for sister Margaret Anne and me.
Holly was arranged behind all pictures and mirrors, mistletoe hung high, and finally, finally it was time for baking, my favorite of the Christmas rituals.
I would take my cherished seat on the lard stand beneath the east window right next to our wood fired cook stove. Between the morning sun on my back and the warmth of the stove, it was the toastiest seat in the house and offered me the opportunity to get up close and personal to all the kitchen work while keeping out of Mama's way.
Most of the cooking involved ingredients on hand yielded from our farm, but at Christmastime we always had store-bought specialty items: canned Pet milk, a bag of oranges, a box of cocoa, raisins, grapes, extra sugar, canned pineapple and at least two fresh coconuts. 
Aha — the coconuts! As challenging as they were to give up their innards, they were my favorite ingredient and not to be compared to today's frozen replica.
First the eyes had to be punctured using a 10-penny nail and hammer. The coconut was then inverted onto a glass, which caught the milk, and every drop saved. Some used to add moisture to cake layers, some for candy and some to add to ambrosia. After all the milky goodness had been drained, the shell had to be pounded, using the hammer again, and broken into manageable pieces. The rind was then cut off and the flesh grated.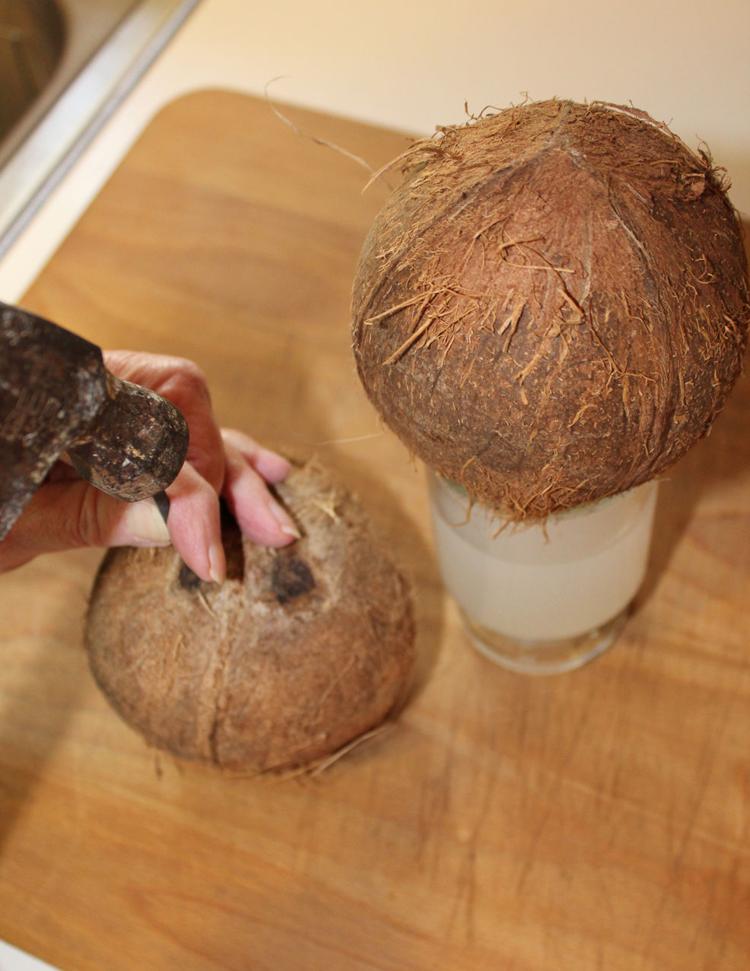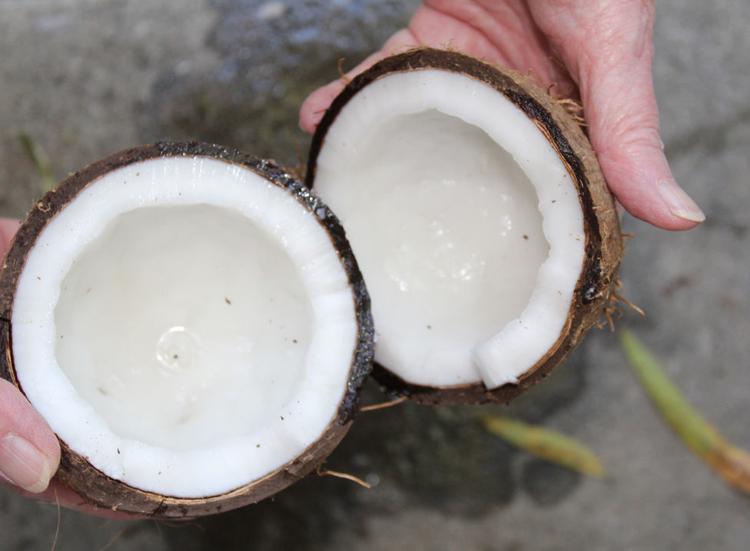 Mama used the finest side of a box grater and grated each piece down to small nubbins.
I was the recipient of those nubbins, and once tried my hand at grating those small bits. I think I probably grated as much of my knuckles as coconut. That quickly ended my assistance.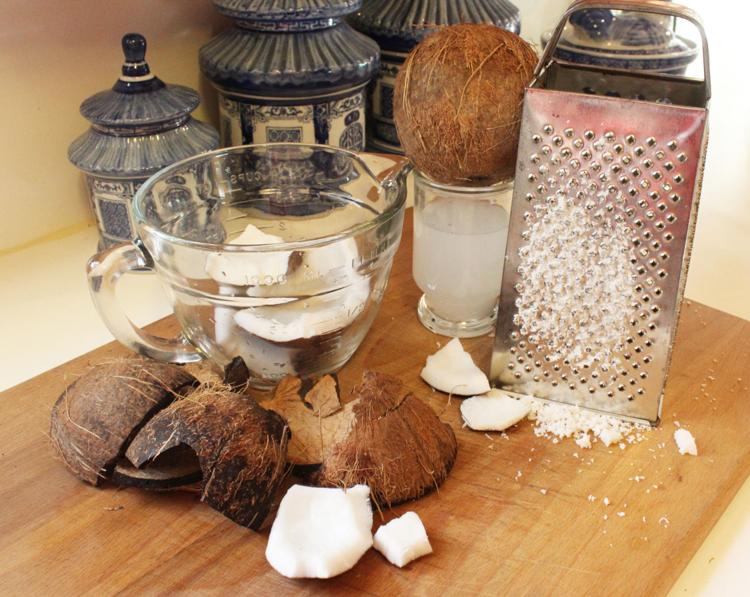 Three cake layers were made with mounds of coconut filling between and on top, refrigerated and left to mellow a couple of days.
Some of the flesh was cooked into candy and poured into a buttered platter until set. Mama always tinted the candy the lightest shade of pink. The sweetness of the candy, coupled with the slight saltiness of the butter, was heavely, and I sometimes couldn't resist sneaking a piece.
More of the Christmas goodness was used for ambrosia, and I always wished for no company or missionary meeting at our house until I'd had my fill several times over.
Of all the Christmas goodies, the cake was my favorite. I'm convinced had the magi been three plus my Mama, she would have offered a coconut cake to the holy family, and the Christmas child would have licked his lips and smiled. Gold, frankincense, myrrh and Mama's coconut cake.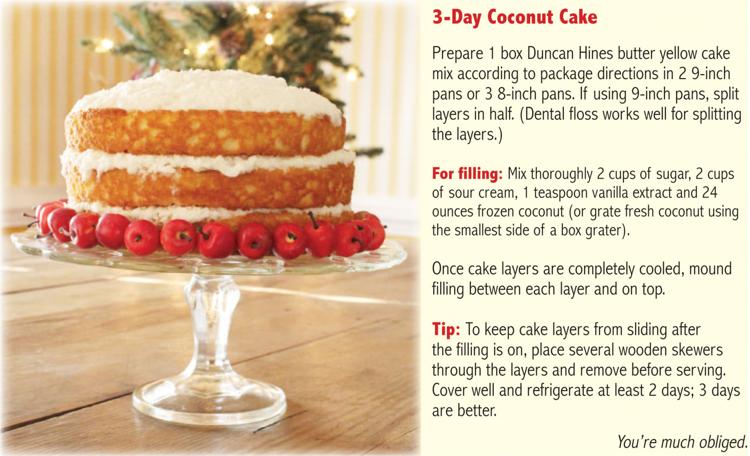 Joanna Buck and her siblings grew up on a farm, the children of a sharecropper. A resident of Warren County, she is a regular contributor to Womack Publishing Company publications.