Hollister artist Senora Lynch, known in the local community and beyond as a multi-faceted artist drawing inspiration from nature and her Haliwa-Saponi cultural heritage to create works of art ranging from pottery to beadwork, will be among featured artists and crafters at Craft Day at the Old Cotton Gin on Saturday, May 18. The event will be from 10 a.m. to 4 p.m. at 201 S. Hall Street in Warrenton.
Many members of the Haliwa-Saponi Tribe, like Lynch, reside in the area around the Bethlehem community, Essex and Hollister, where Warren and Halifax counties meet, on lands that have been home to tribal members for countless generations. Lynch considers it an honor to continue cultural traditions which have been passed down to her and to educate today's youth about this rich heritage, which she also reflects in her art.
She became involved in art at an early age when she sewed clothes for her dolls. As she grew up, she helped her grandfather in chair caning and crafted beadwork for the Haliwa-Saponi Tribal Center.
Lynch's skills have grown to include making baskets, beadwork, pottery, corn shuck dolls, beaded princess crowns, leather art, moccasins, pouches, and Native American regalia, among other works.
The local area in Warren County holds a special place in Lynch's heart became it has been the home of the Haliwa-Saponi Tribe's ancestors for centuries. From her family and tribal elders, Lynch learned the stories and teachings of her people, listening as they spoke of the ways of the land, herbal medicine, planting signs, earth elements, deer, bears, wolves, turtles, dogwoods, hummingbirds, the heavens and the earth, and crops, such as tobacco and corn.
These teachings continue to inspire her works, which often include images with special meaning to the Haliwa-Saponi, such as the dogwood flower, which is not only a sign of spring, but also a signal that it is time to plant corn. Lynch's designs often include two plants which the Haliwa-Saponi consider to be sacred: tobacco, the spirit of life, and corn, the staff of life.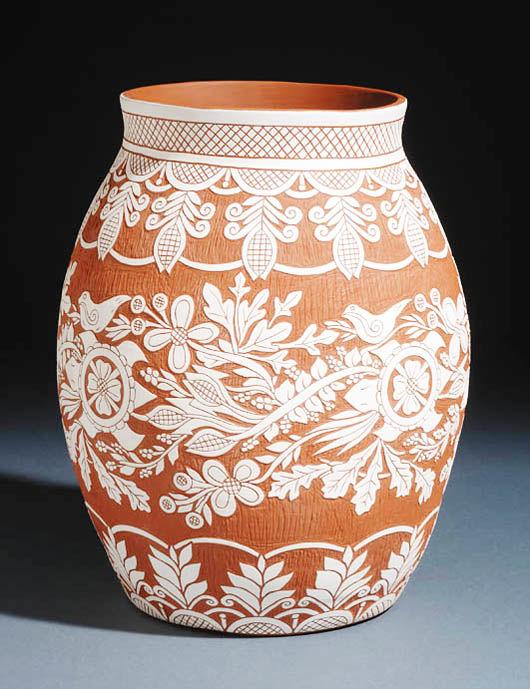 She may be most known for her pottery, designs of white on red clay. The artist began working in pottery when she assisted tribal elders with a pottery class at the age of 14.
"Working in clay takes me back to my childhood days of playing in mud," she previously said.
Instead of using a pottery wheel, Lynch hand-coils her works of art. Red clay is pounded and rolled into large ropes which she stacks to form the desired shape. After smoothing, scraping and stretching the clay, she polishes the vessel with a rock to smooth it further and give it a shiny appearance.
Lynch creates her well-known white-on-red designs by etching patterns into white clay that has been placed over the red clay vessel and firing the pottery in a kiln.
Her works are admired for their beauty by residents of the local area and beyond, but they also serve as instructional tools in teaching about the Haliwa-Saponi and other tribes in North Carolina to help others appreciate their history and culture, and to overcome racial stereotypes.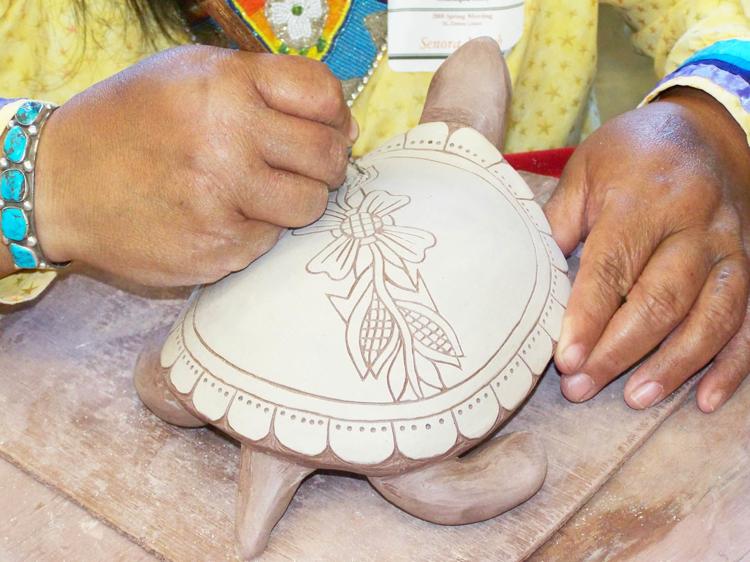 Lynch's artwork has bee exhibited at the North Carolina Museum of History, the Atlanta Southern Crossroads exhibit at the 1996 Olympic Games, the National Museum of the American Indian and National Women's Museum of Art. In 2007, she received the N.C. Folk Heritage Award for promoting and preserving Haliwa-Saponi culture.
She has completed artist residencies in both North and South Carolina, and she designed and crafted a walkway honoring Native American peoples and their culture for the Frank Porter Graham Student Union on the University of North Carolina at Chapel Hill campus. In addition, Lynch was the subject of the book, "The Contemporary Southeastern Pottery of Haliwa-Saponi Artist Senora Lynch," by Christopher Everette.
Currently, Lynch is an artist-in-residence at the Clarkton School of Discovery in Lumberton.
As her latest artist residency reflects, Lynch especially loves sharing her talents with youth.
"What I enjoy is going into the schools and teaching children about pottery art, the joy of clay," she previously reflected. "I enjoy sharing native stories and history with them."
Lynch will take the opportunity to discuss the heritage and traditions reflected in her works of arts with interested people of all ages during Craft Day at the Old Cotton Gin.