You can win the fight in life with heart, attitude and faith.
That's the takeaway from "The Making Point: How to succeed when you're at your breaking point," the first book by Master Sergeant Cedric King.
"That's what the reader has to know," King said when he was home this spring to participate in the Run Warrenton 5k. "I'm living proof that small wins can lead to big victories."
The son of Sandra and Valton Williams of Warrenton and the late Van King, King lost his legs and injured his right arm in 2012 after stepping on an improvised explosive device while serving with the U.S. Army in Afghanistan. 
Early on, even as he dealt with the sometimes excruciating pain of recovery, multiple surgeries and getting used to prosthetic legs, the soldier decided not to allow what happened to him on the outside affect what was happening to him on the inside.
In a 2013 interview with The Warren Record, King described his outlook:
"You make choices to have a bad attitude or have a good attitude. You make a choice every day. Sometimes you say, 'My problems got the best of me,' " he said. "I have a choice, and I choose to have a good attitude as much as possible, and just win. I always feel like something good's going to happen to me each day."
Supported by his parents, wife Khieda, daughters Amari and Khamya, extended family, friends, his military family, celebrities he met while recovering at Walter Reed Hospital and people he didn't even know, King has taken that drive and determination and, since retiring from military service, turned it into a successful career as a motivational speaker. He also puts his winning attitude to use as an athlete, participating on a regular basis in marathons, Iron Man competitions and other events that test endurance and strength.
Earlier this year, King released "The Making Point," and he held a book signing in Warrenton following this year's Run Warrenton 5k, which was started in his honor in 2013. He was determined that he would be able to run a marathon one day, and Run Warrenton was the first road race that he ran after he lost his legs.
"After we did this first 5k, I felt more let down about running marathons than I ever had," King said in an interview about his book. "It was so far. I'm thinking, 'I just got my butt kicked by a 5k.'"
But he didn't let that first 5k defeat him.
"That physical pain is so tough to overcome, because the pain exists in your body, but somehow it seeps into your mind, and it starts to become not a physical battle but a mental battle," he said. "The pain isn't moving; you have to move it mentally, you have to transcend how bad it hurts to another place. The pain is right here. I'm going to move it out of my way of what is important, like the speech, or the family, or the job."
The Making Point
In the introduction to his book, King describes the making point as flipping the script on a person's breaking point. Taking something bad and turning it into something good. 
It is this theme that he carries throughout his book, though he warns that the making point will likely come with heartache and struggles, rather than in a pretty box with a bow on top.
King describes his own struggles, examples of running the Boston Marathon on prosthetic legs for the first time, being in pain and trying to hide it from others. He gives instructions for flipping the switch from negative to positive thoughts, turning to a higher power, talks about how he dealt with his own struggles and self-doubt, how to turn obstacles into blessings and how to boost confidence.
He also includes sections for readers to write down personal thoughts and lists, such as actions for gaining control of your life, personal mantras, prayers, goals, obstacles and blessings.
The book includes different viewpoints of that fateful day in Afghanistan, Wednesday, July 25, 2012, the day that, for most people, could have been their breaking point. 
"A blast under my foot propels me upward.
I'm airborne — in a huge cloud of dirt.
A sound louder than jet engines blasts my ears.
Burning pain, as if I'm tossed into a fire, assaults my body.
I gasp for breath.
My body slams into the hole that the bomb blasted in the dirt floor.
I'm on my back. Dust rains down on me.
'Thank you, Lord,' I say, as if I'd just jumped out of an airplane and landed safely. I've seen thousands of IED explosions, been awakened in the middle of the night by them, and I'm still surprised by the force and noise of this blast. 
Still, my first thought is, It can't be that bad.
So, I try to stand up. My Army Ranger fighter instinct tells me: You got knocked down. Now you get up.
I keep trying to stand up, but I keep falling down."
Throughout the accounts of King's injuries, his time recovering and rebuilding his life, and the 300 pages of inspiration, the reader will find an overwhelming faith in God that King carries with him daily.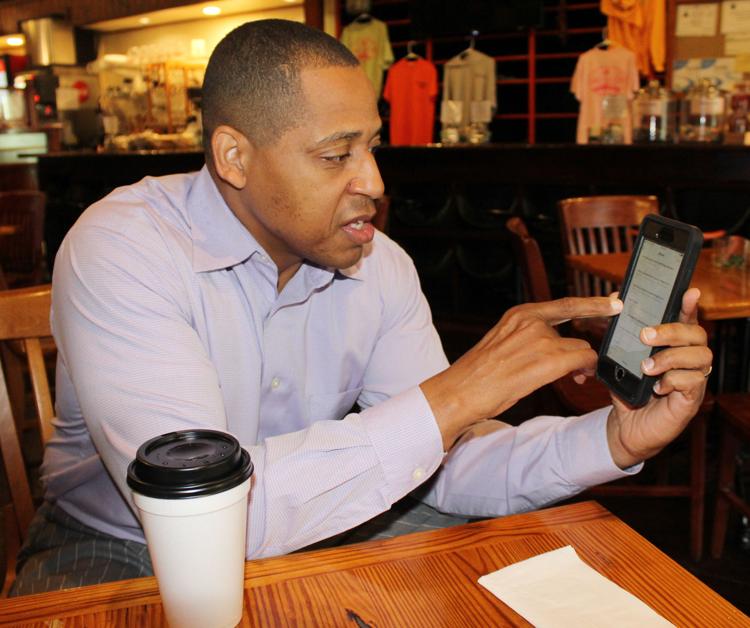 "Sometimes your opponent is you. You've got to be able to believe in you maybe just as much as you believe in God," he said. "You've got to believe that God can do it and that you can do it. You can be your own worst enemy."
When things aren't going your way, the one thing you have control over is your attitude, King said.
"I don't think God did this (the injuries) to me; I think he allowed this to happen to me for the greater good because he believed I could handle it, he trusts me with this trial," he said. "Me and this injury were sworn enemies when this first happened, even at the first 5k; but now it's like, OK, I'm so glad this injury came into my life, and that's the way we've got to do with just about every single haunting thing that happens."
King wants people who read "The Making Point" to come away knowing they can make peace with whatever broke them, whether it's an injury, a death, chemo, or anything else that life throws at them.
"You cannot continue to revisit the thing that broke you and feel animosity toward it," he said. "At some point, you have to say this came to me to help me. Step higher, embrace whatever is hitting you. By you changing your relationship with the struggle, the struggle will then change the relationship to you."
It's the same way that he looks at his own life.
"Life is happening for me, not to me. I always have a sense that things are about to go upward," he said. "This is the tip of the iceberg. I still don't know how far it's going to go."
"The Making Point" is available for purchase on Amazon and from other online retailers.