Renowned Raleigh artist and founding member of the hip downtown's ArtSpace, Dianne T. Rodwell will return home this weekend for Craft Day at The Old Cotton Gin on Saturday, May 18, from 10 a.m. to 4 p.m. The event will be at 201 S. Hall Street in Warrenton.
Retired from ArtSpace after 31 years at her working studio there, Rodwell grew up between the Warren County communities of Macon and Embro, and never knew a time when she wasn't passionate about creating. In December 2007, she told Women's Edge Magazine that one of her favorite memories was the smell of her first school box of half round wax crayons and their smell of inspiration.
Rodwell credits her mother, other relatives and teachers with providing early encouragement that would light her creative path; her mother would cut out the bottoms and up one side of grocery bags to provide her with drawing paper, and people who lived in the community and saw Rodwell's talent helped along the way.
Rodwell grew up watching her father, a mechanic, work with his hands, and admiring the work of her grandfather—a carpenter—and grandmother, a quilter. Watching and studying is how she has grown as an artist and developed new media over time as an artist.
As a high school student, Rodwell found support from the Macon Woman's Club, which paid $1 per class for weekly private art lessons at the local library, as well as sponsored her in art competitions, paid for professional framing and provided transportation.
In 12th grade, one of Rodwell's teachers entered her work in a competition in which she won a National Scholastic Achievement Award in Art; the teacher bought the winning oil painting.
Rodwell studied painting at the College of Great Falls in Great Falls, Mont. She began her professional career in Montana in 1974, which she described as an artist's dream come true, and by the late '70s, her paintings—oils, acrylics and watercolors—had joined private, government and corporate collections throughout North America and abroad. But, Rodwell said, she literally had painted herself into a corner with realistic railroad art, so she moved back to North Carolina and reinvented herself in the art market.
In 1980, her internationally awarded and published works first became available as limited edition fine art reproductions. The artist's travels have taken her to Monet's home and gardens in Giverny, France, and on to Provence, where she followed in the footsteps of Van Gogh.
Among her awards are two National Grumbacher Awards and an Artprint Magazine National Publication Award. Her works have been selected for arts district and United Way campaign posters, for a Raleigh Visitors Guide and can be found in permanent art collections.
Rodwell describes oil painting as her first love, and she prefers to create works in series such as the Water Garden/Fish Frenzy paintings, which she will include in pieces she will bring with her to Saturday's Craft Day event.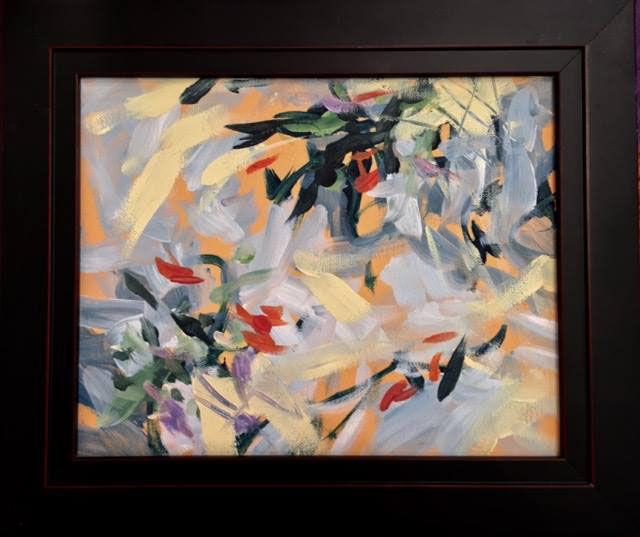 Also included on Saturday will be some small encaustics, which are hot wax paintings; prints of Warren County paintings; pieces from both the Soft Speak and Far and Away series; birds nest and ginkgo jewelry; jewelry made from Warren County mica; and new torch-fired copper cuff bracelets.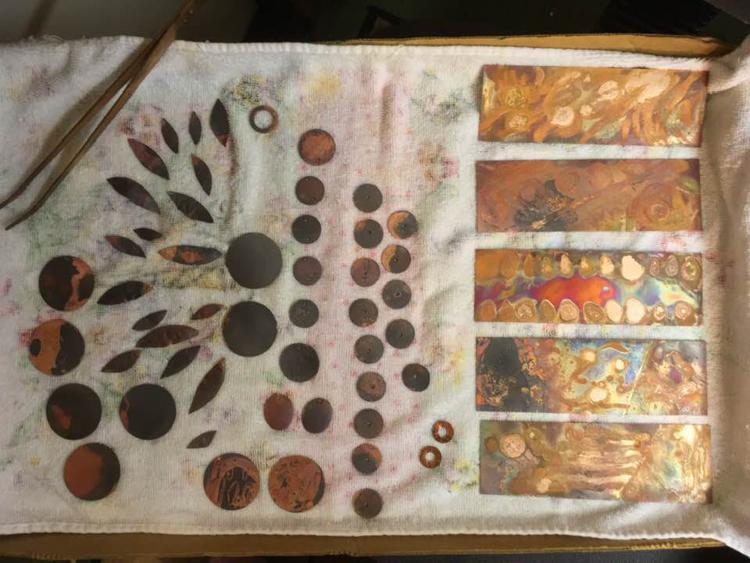 "This will be my first show since retiring last June from ArtSpace," Rodwell said. "I'm excited about coming home for this event."