Call it what you will. An epiphany. The Eureka effect. An ah ha moment.
Whatever you call it, my moment of clarity happened while stuck in standstill traffic in Charleston, W.Va. Our family was returning from a long weekend visit with family in Harrodsburg, Ky., and like many other families on the road, that day each person in our van was totally engrossed in electronic devices. 
Autumn and Randy, our two youngest, were watching a movie with headphones on. Ben, our teenager, was playing games on the Switch with ear buds in. I was like any responsible Facebook user, updating all my followers that we were stuck in traffic while on our travels, and reading on my Kindle. Since we were not moving at the moment, my husband, Seth, was scrolling through his Facebook page. 
All this activity was happening, but something was missing. It hit me like a lightning strike; no one was talking. Five people in close proximity to each other, yet no one was talking. No conservations between husband and wife, no arguing between brother and sister, no "are we there yet," "when's lunch?" Nothing but silence. Each person was closed off, in his or her own world, isolated from each other. We were in reaching distance, but could have been miles apart. 
Seth seemingly had the same ah ha moment. We looked at each other and around the van at our family with the same realization. 
We started talking about the travel games we would play as children. He always liked the license plate game of trying to find all 50 states. The elusive Alaska and Hawaii were always guaranteed victory. My favorite was the alphabet game. Starting with A, we had to find words starting with each letter of the alphabet on road signs and billboards along the way. 
Each summer, my mom, aunt and cousin would make the road trip from southeastern Kentucky to Indiana to spend a week or two with my Aunt Judy. My cousin and I had a certain strategy for the game. We had to start right around Lexington, Ky.; otherwise, we would be hard pressed to find X and Z. We knew from previous travels that right around Cincinnati, OH. a billboard had a word that began with X. I can't remember what the sign was, but I remember the letter was there. We also knew that Z would be on a sign right around the time we made the turn heading into Indiana. The first to spot that sign would claim victory. 
This conservation led to others, and we told our kids to put away the headphones and devices. We turned on Sam Cooke and prepared for a fun afternoon of travel games and conservations. This lasted all of 10, maybe 15, minutes when the "I'm bored," "I don't like this game" and pleas for the return of fun and devices began.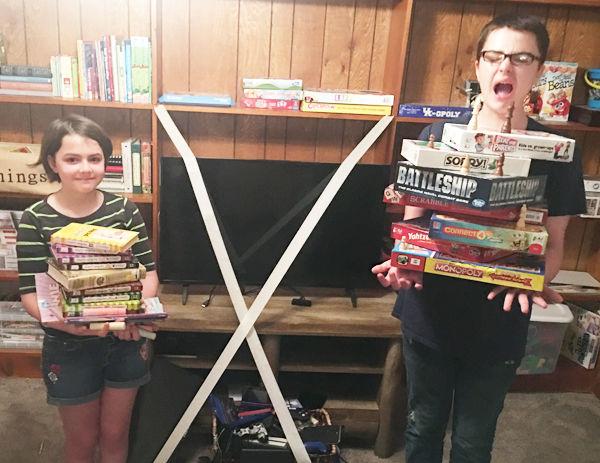 Going unplugged
We decided in that moment to challenge our family to a summer of unplugged activities. Don't get me wrong, devices and phones will still be a part of our lives; we use them for work and to communicate. Besides, how else can we find out The Wandering Dawg's location for lunch? 
We are not going "off the grid" or swearing off technology altogether. Technology and the great advances made are not to blame; our overdependence and misuse of our handheld devices, on the other hand, can be problematic. 
We, as a family, are purposefully going to choose weekend and evening activities to enjoy together sans electronic devices. We may take a trip out to Hamme's Mill and enjoy the scenery and history. You may see us spend the day at Kerr Lake and stop by Buchanan's Store for lunch or a snack. A simple stroll through downtown Warrenton saying hi to friends and visiting the Farmer's Market on a Saturday morning is a perfect way to spend the day unwinding and unplugged. 
A trip to Lake Gaston to Wildwood Nursery to pick out flowers to plant, and spend the evening with our hands in the dirt and discussing how to arrange our flower bed sounds like a good way to spend the day. A Friday night with friends at the drive-in, or a simple picnic in our backyard and playing horseshoes. The possibilities are endless. 
Look for our adventures in the pages of The Warren Record as part of the Unplugged Summer series through Labor Day weekend. You can also follow along with Vlog updates at warrenrecord.com accompanying the written submissions.
We invite you join us on our unplugged adventure with a purposeful Unplugged Summer of your own. Follow The Warren Record on Facebook and watch for the Unplugged prompt each week. Share a photo of you, your family and friends taking the challenge to unplug and engage with others. Your picture may be featured in an issue of The Warren Record, on our website or social media. 
Have an idea for an unplugged activity? Message us through our Facebook page or email news@warrenrecord.com.
Dust off those board games or cards, pull out the old road maps, put away the phones and buckle up for an Unplugged Summer full of discoveries, adventure and noise, lots of noise, conservations, laughing and fun!