Theaoseus Theaboyd "T.T" Clayton, Sr., a longtime Warrenton attorney and husband of former Congresswoman Eva Clayton, died on Thursday, April 4, at the age of 88.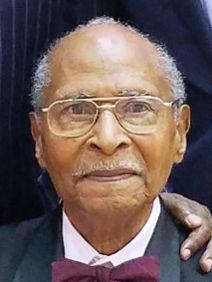 "T.T. was a man of exceptional character and unequivocal conviction to fight discrimination and push for the equal treatment of African-Americans at home and in the workplace," Congressman G.K. Butterfield, who represents Congressional District 1 which includes Warren County, said in a statement issued last week.
The son of the late Addie Thomas Clayton and Monroe Clayton, Jr., Clayton was born Oct. 2, 1930 on the family's Person County farm. Clayton received a Bachelor of Arts degree in General Science and Political Science from Johnson C. Smith University in Charlotte. At the beginning of his senior year, he met Eva McPherson, who was an incoming freshman.
Clayton served in the U.S. Army from 1952 to 1954, serving as a Military Police officer and, in Korea, as a postal supervisor. He returned to Johnson C. Smith University after his tour of duty, and he and Eva McPherson graduated together in 1955. They became engaged and were married on Dec. 24, 1955, in Augusta, Ga.
Clayton earned his law degree from North Carolina College, now North Carolina Central University. He began practicing law in Durham in August 1961 with the McKissick and Berry Law Firm. In October of that year, he began practicing law in Warrenton. Here, he was associated with attorney James D. Gilliland in the firm of Gilliland and Clayton. The law firm was housed in the Green Building on Market Street.
In a 2005 interview with The Warren Record, Clayton told the newspaper that he began practicing law at about the same time as Charles Davis and John Zollicoffer and remembered when the three men were introduced as new attorneys at the 9th Judicial District meeting. The first African-American to practice law in Warren County, Clayton began his practice at a time when there were few black attorneys in eastern North Carolina.
In May 1962, Clayton and his family moved to the West Franklin Street, Warrenton, location which would later become his local practice.
Following Gilliland's death, Clayton continued to practice law in the Market Street building. In 1968, Clayton moved his law practice to West Market Street with the family residing in a home on the same property. In 1970, the family moved to Lake Gaston.
During Clayton's many years as a local attorney, a number of prominent attorneys worked at his Warrenton practice. Former Congressman Frank Ballance was a partner in the law office from 1966-1978. Other attorneys who have worked at Clayton's Warrenton practice include Congressman G.K. Butterfield, James Smith and Evanna Powell. Clayton's son, Theaoseus Jr., also practiced with him for several years.
Clayton's work has included voting rights and school desegregation cases in the 1960s. He represented nearly 3,000 claimants in the employment discrimination case Sledge vs. J.P. Stevens, which began in 1970 and was settled in 1995.
Clayton also served as general counselor for the Soul City Project and defended protestors of the PCB dump in the Afton-Elberon area in the 1980s.
He closed his Warrenton law office in 2005, but continued to practice law at his Raleigh office until retiring in 2013.
While known politically as the husband of former Congresswoman Eva Clayton, he ran for office in the state House of Representatives in 1964, 1966 and 1970.
Clayton was a member of the North Carolina Central University Board of Trustees, a lifetime member of the NAACP, a founding member of the Charles Williamson Bar Association and an elder at Cotton Memorial Presbyterian Church in Henderson. He also attended the Central Intercollegiate Athletic Association basketball tournament each year.
In 2005, Clayton described his life's focus to The Warren Record.
"My service has been to all persons who have requested legal assistance, regardless of race, creed or color," he said. "I know that I have been respected by my peers and people who know me because I have tried to do the right thing toward others, not only as a lawyer, but as a human being."
In his statement, Butterfield said that Clayton had done just that, referring to his friend as "a true servant of the people."
"I was fortunate to have a personal relationship with T.T., and his friendship throughout the years has made a lasting impact on my life and career," he said. "I am eternally grateful for his mentorship and his example as a prominent professional and public figure who truly practiced what he preached."
In addition to his parents, Clayton was preceded in death by his six siblings, Dr. Dewey M. Clayton, Wilma C. Bryant, Thurman Clayton, Claytea Clayton, William H. Clayton and Celestine C. Roberts. Survivors include his wife of 63 years, Eva Clayton; his children, Joanne (Winifred), Theaoseus, Jr. (Debra), Martin (Yvette) and Reuben (Taffye); six grandchildren, Justin, Phillip, Julian, Eva, Monroe and Hailey; and other family members.
A memorial service will be conducted at 6 p.m. today (Wednesday) at Boyd & Royster Funeral Service in Warrenton. Funeral services will be conducted at 1 p.m. on Thursday, April 11, at First Presbyterian Church, 222 Young St., Henderson, by the Rev. William H. Clayton, Jr.
Memorial contributions may be made to Office of Institutional Advancement, Johnson C. Smith University, 100 Beatties Ford Rd., Charlotte, NC 28216 for The Endowed Scholarship Fund-1955.