In response to customer concerns about health and safety, as well as availability of high-demand products, the Food Lion corporate headquarters has issued a statement concerning the company's response to the COVID-19 pandemic. In addition, the company's communications and community relations department has addressed concerns shared with the newspaper by citizens related to its stores in Norlina and at Lake Gaston, both in Warren County.
On Tuesday, Emma Inman, Food Lion director of external communications and community relations, addressed concerns related specifically to the two local stores. She said that store managers have the right to reserve, at any time, quantities of products within their stores. 
"Having said that, though, we are trying to consistently manage the purchase limits in place as a result of the unprecedented demand that we're seeing because of the coronavirus pandemic," Inman said.
She did not, however, address why the signage limiting purchases on high-demand items was so small, compared to much larger signs announcing higher prices on items like eggs and milk.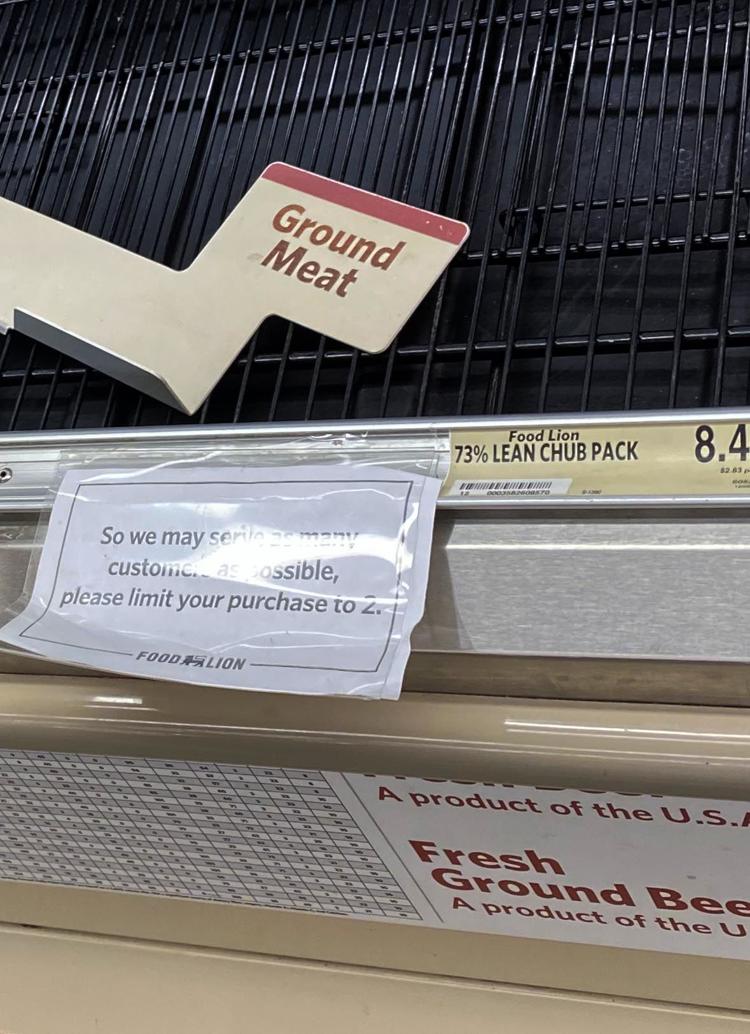 Inman noted that she will be working with the two local stores to ensure that proper signage is in place to provide information to customers.
She indicated that plexiglass is being installed in the cash register areas of its stores with installation expected to be complete by the end of the week. The Norlina store already has plexiglass installed.
Other concerns included whether curbside delivery could be set up at the Norlina and Lake Gaston stores. However, Inman said that the company would not be able to launch Food Lion To Go at those sites. She did not answer why this service could not be provided at the Warren County locations.
The Food Lion statement
The Food Lion statement, available on the company's website, foodlion.com, addresses a number of general concerns related to availability of products, and associate and customer safety.
The statement includes a note from Meg Ham, company president, that Food Lion stores have increased the frequency of cleanings and enacted more rigorous practices in response to COVID-19. She also states that associates are encouraged to stay home if they are sick, and that information they received about proper hand washing and sanitizing practices has been updated in light of the coronavirus.
The statement then addresses frequently asked questions related to store cleanliness and availability of products. According to the document, associates regularly disinfect high-touch areas in stores. Customers are encouraged to use sanitizing wipes if they are available in stores. Where wipes are not available, associates are instructed to wipe down carts before use.
The statement indicates that Food Lion remains in contact daily with vendors and suppliers to get items to the stores as efficiently as possible. When items come in, they are loaded on trucks as quickly as possible and delivered to stores. 
However, the statement notes that there has been a national impact on the availability of some items, including toilet paper, paper towels and cleaning products. For this reason, Food Lion has set purchasing limits on products such as meat, eggs, hand soaps and sanitizers, paper products and household cleaning supplies. Store shelves are stocked as quickly as possible when supplies arrive.
The statement emphasized that people can still purchase groceries under shelter-in-place orders. In response to COVID-19, Food Lion has set aside Mondays and Wednesdays from 7-8 a.m. as times for customers age 60 and over or whose immune systems are compromised to take care of grocery shopping. Otherwise, stores will maintain normal hours of operation.
According to the statement, Food Lion follows guidelines from local, state and national healthcare authorities, including the Centers for Disease Control and Prevention, to keep customers and associates safe. Some associates may choose to wear protective masks, but it is noted that masks are recommended mainly for healthcare workers and those who are ill. The statement notes that signs will be placed in stores as reminders of recommended social distancing practices.
According to the statement, customers can still use Food Lion reusable bags, but should clean them with warm, soapy water or a disinfecting wipe before using them again. Canvas bags should be washed between uses.