During a special meeting on Friday, the Warren County Board of Education tabled a decision on the future of South Warren Elementary School until its June 25 regular work session, calling for more time to review information related to the matter.
The decision to postpone a vote on whether to close South Warren, which is in the Afton-Elberon community in the southern part of the county, came after an often passionate discussion during which several board members expressed frustration about what they consider to be inadequate education funding in County Manager Vincent Jones' proposed 2019-20 budget. The board is also grappling with the growing future possibility that a new school for students in pre-kindergarten through eighth grade will need to be constructed in the South Warren area, along with reconfiguring Warren County Middle School into a K-8 school.
Background
Questions about the elementary school's future arose during a discussion about the condition of South Warren's HVAC system during the board of education's April meeting. 
At that time, Dr. Frank Polakiewicz, assistant superintendent, said that South Warren was constructed in 1964 with a steam heat system with oil boiler. He added that the underground pipes have become more unreliable and parts have been more difficult to obtain over the years, and maintenance personnel have had to make more frequent repairs.
Polakiewicz said that in 2017, an engineer from the N.C. Department of Public Instruction evaluated the system and recommended a long-range plan for replacing the system that carried an estimated cost of $660,000-$725,000, or replacing the underground pipes at an estimated cost of $200,000.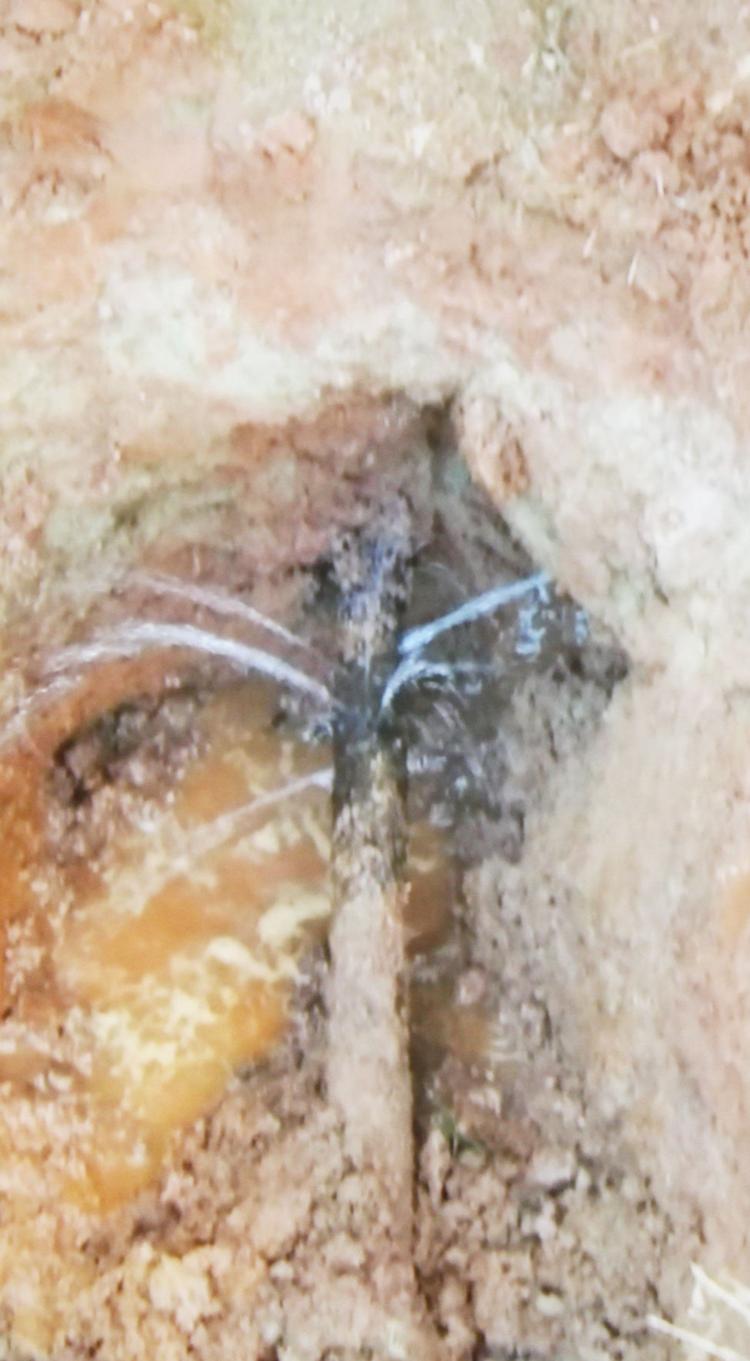 More recently, the school system consulted with Michael Kilian of Kilian Engineering in Henderson to evaluate the system to update the report. During the April meeting, Kilian told the board that when he saw the HVAC system earlier this year, he found that the underground return pipes had reached the point that they were causing the boiler to suck in mud, which would lead to eventual system failure.
Kilian told the board that work by Warren County Schools' maintenance department has extended the life of the HVAC system well beyond the normal range, but said that no one can guess when the system could fail. He recommended that the school system should replace the underground pipes this summer at the minimum in order to keep the system going.
Polakiewicz agreed with Kilian, saying that the only way to guarantee an uninterrupted school year for South Warren students and staff would be to replace the underground pipes.
Meetings with the public
A public hearing in May and an information meeting on Thursday, both held at South Warren, allowed area residents to learn more about the school's condition and options for the future. During both meetings, citizens packed the school's multipurpose room and gave emotional pleas to save South Warren.
During Thursday's meeting, Superintendent of Schools Dr. Ray Spain said that school system officials worried that the boiler heating system would fail last winter because it is nearing the end of its life.
He said that all of the district's elementary schools were built at about the same time, between 1957 and 1969, with one wing of Mariam Boyd Elementary School in Warrenton constructed in 1932. Spain said that underground return pipes at South Warren were replaced in 1985. He cautioned that Mariam Boyd and Vaughan elementary schools, and Northside K-8 School in Norlina, which use the same type of boiler system utilized by South Warren, likely will experience problems over the next several years.
Michael Perry, school system maintenance director, showed photographs of pipes at South Warren with problems that included rust, leaks and sand buildup, which maintenance workers had been dealing with for years.
"We fix one leak and then get another," he said.
Technician James King said that maintenance crews have had to work on problems with a compressor at Northside. 
Spain commended South Warren as a good school, but said that the most realistic option for the future may come from a 2016 school consolidation study completed by an outside company as a response to school space questions raised by the board of county commissioners.
The study recommended four options ranging from renovations to the existing elementary schools to new construction. Warren County Schools now leans toward an option that would transform Warren County Middle School into a pre-kindergarten through eighth-grade campus and construct a similar campus in the area near South Warren. Cost for the work is estimated at $36 million.   
After the presentations from school system officials, members of the public asked for a solution that would keep South Warren open.
Candice Kearney described the school as a family, asking if the school system could seek a loan or grant in order to replace the boiler system. She also said that with the condition of all elementary schools, closing South Warren could create a cycle of moving students from one place to the next as more schools are forced to close.
Yarbrough Williams expressed concern about the time that students would need to get up to ride the bus if they are reassigned from South Warren.
"Children are already getting up at 5 a.m. They get on the bus in the dark," he said. "I can't imagine what time they will have to get up if they go to another school."
Shauna Williams said that her former school in New York faced a similar problem, but was not closed. Instead, a new school was constructed nearby.
She asked for more time for the South Warren community to think about what was happening and wanted the community to come together in support of the school.
South Warren fourth-grader Isaiah Diaz described the school as a family. He said that he has shown much growth in his academics and made many friends there.
His mother, Ashley Michenko, asked the school system to give parents at least one more year at South Warren.
"South Warren is worth saving," she said. "Our students are doing an awesome job. If you move them, that is setting them up to fail."
Wadie Ryan said that Warren County Schools must plan for future growth from the Raleigh area by having a school in the southern part of the county.
"Why get rid of the resources that would attract people here? You have to plan. Don't throw out the baby with the bathwater," she said.
Former South Warren principal Danylu Hundley warned that if the school system closes South Warren and sells the building, a charter school could purchase it and replace the boiler system. 
"This is too good a facility to close," she said. "I live in an old house and fix it all the time."
Lisa Johnson said that Warren County Schools should have been saving money to replace the boiler system since 1985 when underground pipes were replaced. She asked why the school system spent money to replace equipment such as desks last year if the school was closing.
Friday board meeting
Board of Education Chairwoman Ebony Talley-Brame began Friday's special board meeting in the same way she ended Thursday's meeting, by saying the board faced a difficult decision.
Two citizens, Yarbrough Williams and Ashley Minton, made final pleas to keep South Warren open. 
"It's the last thing that the southern part of Warren County has," Williams said.
Minton said that, with the age of all elementary schools, moving South Warren students would be putting a bandage on the problem instead of fixing it.
 "If you keep the school open, the parents who are left will see that the neighborhood school is worth fighting for," she said.
Talley-Brame's observation that the proposed county budget for 2019-20 did not fully fund the school system's budget request, sparked impassioned statements from other board members. 
Warren County Schools requested a total of $5.98 million for the upcoming fiscal year. The county's proposed budget allocated $5.3 million for education, an increase from $4.9 million in 2018-19. The proposed budget stipulates $500,000 in lottery funds for capital projects.
"The county commissioners have thrown us under the bus," Roberta Scott said. "… The (school system) budget is the bare minimum for what we need for an effective school system. Lottery money is just a drop in the bucket."
Board Vice Chairwoman Barbara Brayboy agreed with Scott. Both said that previous boards were more understanding of school system needs, but the proposed budget does not do enough for the county's public schools.
"As a school system, we don't have enough money to make repairs (to the South Warren boiler system) because we are not funded as much as needed," she said. "Sometimes I think that the county commissioners are shirking their responsibilities."
Talley-Brame said that representatives of the school system would be meeting with county officials today (Wednesday) to discuss budget needs.
"I want to be optimistic," she said. "I hope we can continue a good working relationship with the county commissioners."
Board members said that they don't want to close South Warren, but must be realistic about what would be best for the district, noting that school systems surrounding Warren County have been faced with similar decisions. Other questions centered on what would happen if underground pipes at South Warren were replaced, but the boiler system malfunctioned during the next school year.
The board of education will conduct its June 25 work session at 6 p.m. in the multipurpose room of Warren County Middle School, 118 Campus Dr., Warrenton. 
On Tuesday, Tare "T" Davis, chairman of the Warren County Board of Commissioners, responded to school board statements.
"The Warren County Board of Commissioners has a history of supporting Warren County Schools over and beyond what is required, and the current board of commissioners has done the same thing," he said, noting that the county increased the school system's funding for the coming fiscal year.
Davis said that, in multiple conversations and meetings with Spain leading up to Warren County Schools' budget request, Spain had not asked for any funding to make repairs at South Warren.
"We don't want a back and forth with the school board. We have a good working relationship with school board members and Chairwoman Ebony Talley-Brame, and we want what's best for the education of our children," Davis said. "We have been very responsive to their (the school board's) requests when they have come to us. We're here to help them. I want the public to realize that the board of commissioners is responsible for buildings, not personnel, but we do give funding for personnel, also."
Davis said that he felt, despite the age of the county's school buildings, that they were in pretty good shape due to continued funding from the county and maintenance by the school system.
"We want to make sure Warren County has the best facilities our children can have to be the best educated," he said. 
Davis said the board of commissioners had requested, and still not received, certain information to justify funding requests from the school system.
"We have to be responsible to the citizens who pay taxes," he said.