Last Labor Day holiday, my family took a day trip to the Outer Banks. No plans or agendas, other than visiting the aquarium and finding somewhere new for lunch. We loaded up with drinks and snacks and headed out. 
We decided to make this trip part of our Unplugged Summer series and use this as time to put down the electronic devices and spend a fun day unwinding with each other.
Once we reached Rocky Mount, we gave the kids the task of looking for the brown Cape Hatteras National Seashore signs to point us in the right direction. No GPS, just their observational skills to guide us and a road number reminder from mom and dad. 
They did just fine, and soon enough the landscape around us changed from forest and trees to marsh and inlet waters. As we got closer to Manteo, the signs for the aquarium were the guide point for the kids. After a brief debate on directions, we found our way to the aquarium and pocketed our phones, to be taken out only for a brief picture or video here and there. 
Of course, pictures had to be taken in front of the fish sculpture and the shark as the boys discussed how long the shark was and odd facts on shark species and tidbits of knowledge on the movie "Jaws." (That's no surprise, if you know my husband.)  
My daughter, Autumn, kept staring in the shark's mouth saying, "I think there's something in there!" Being the brave girl she is, she tiptoed up, stuck her head in, put her hand way back in the shark's mouth and pulled out a rock. "Look, I was right!" she exclaimed. 
We examined the rock and found a sticker on it that read, "If found, please post to Regan's Acts of Kindness Facebook Page."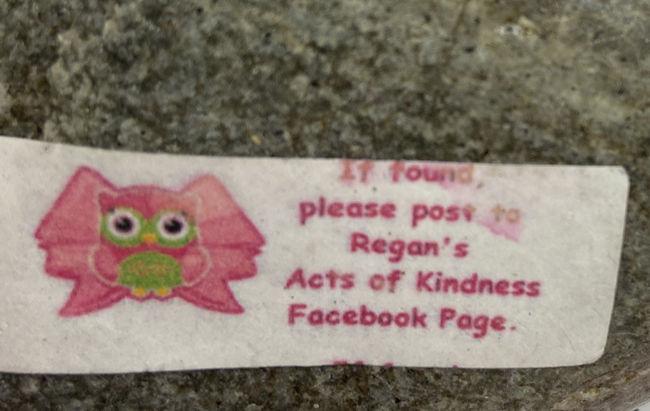 We were curious and decided to keep the rock and look up the Facebook page when we got home and re-hide the rock later. 
Any other time we would have rushed through the pictures, moved along while we sent a quick text or rushed to get to the next thing, and then the next and the next, not really stopping to appreciate what was around us. This time, however, we were in no hurry. We were talking and active participants, not just floating by trying the check off the next item on the agenda. 
After lunch, we traded in our flip-flops for tennis shoes and explored the sand dune at Jockey's Ridge. We finished our day at the coast with a stop at Jennette's Pier. After some walking along the sand, we headed back to Warren County. 
We were all exhausted when we got home, but Autumn and I had to find out more about the rock. We sat down and went to find the Regan's Acts of Kindness Facebook page, thinking we would find a page filled with pictures of kids and families hiding and finding rocks. What we found was so much more. 
Regan's Acts of Kindness is a Facebook page devoted to more than just hiding and finding pretty painted rocks. We found a story that broke our hearts, and at the same time brightened our spirits. 
Taken from the Facebook description: "Regan's Acts of Kindness, Inc. is a 501(c)3 charity whose mission is to spread joy and kindness in Regan Shetsky's name. Regan (ree-gan) was hit by a car and killed in her nursery school parking lot in Syracuse, NY on January 4, 2017. She was nearly 4 years old. Regan was holding her daddy, Mark's, hand at the time, and they were standing between two parked cars. Her dad, a Syracuse firefighter, mom Kelly and brother Gavin, started Regan's Acts of Kindness as a way to spread joy to children's lives and teach them to pay it forward. Our projects focus on play spaces and gardens...and we partner with schools and community groups on kindness initiatives. Thank you to everyone who is performing Regan's acts of kindness."
After reading that, I looked at my little girl and couldn't imagine facing such a loss and was amazed at the strength it took for this family to find light and hope and goodness to share with others. 
On this page you will find, yes, pictures of people finding painted rocks around the U.S. and in places as far away as England. There are posts by those finding wreaths left in memory of Regan and Christmas ornaments being delivered to hospitals, posts about the best of humanity, the giving, the goodness and the kindness to each other. Something needed not just during the holiday season, but all the year through. 
As we start a new year, let us take a look at the world around us. Let's put down our phones, turn off the TVs and tablets, put aside our game controllers and talk. Spend time with our neighbors, pay for the person's coffee behind us in line, make cookies for our mailman, play board games with our family and friends or a game of charades after dinner. Let's take the spirit of the holidays just gone, the love, joy, peace and giving inside of us and keep it with us all through the year. 
As we begin another year, let's be kind to each other; set out to make 2020 a year of being plugged into life and unplugged from devices and other distractions. 
Plan in the new year to be in tune with the world at large. Pay attention, and don't be afraid to look in the shark's mouth; you never know what you might find.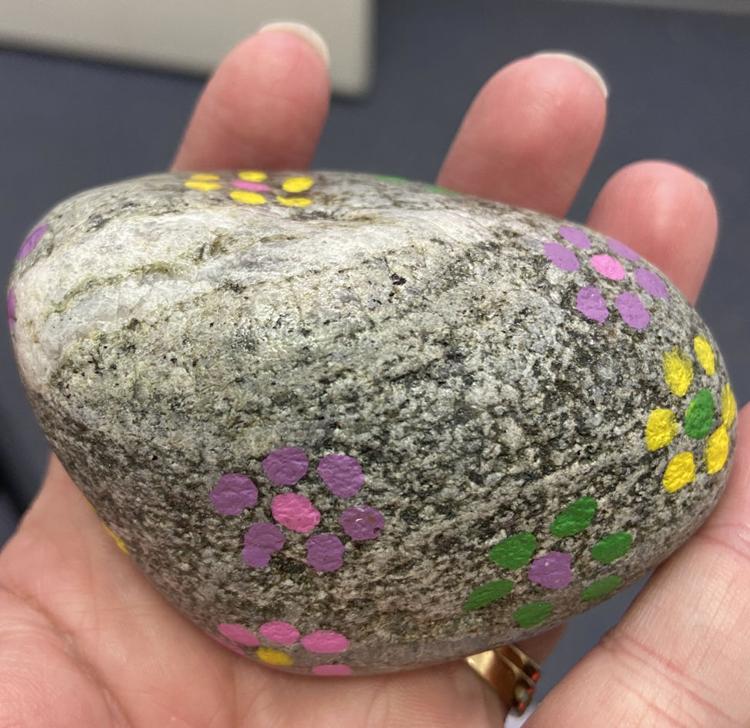 Autumn and I, at the beginning of 2020, have finally re-hid our rock. Search high and low for it somewhere on Courthouse Square on Main Street in Warrenton. When you find it, post a picture to The Warren Record's Facebook page and Regan's Acts of Kindness Facebook page. Then hide the rock again and spread a little kindness of your own.