The Warren County Firemen's Association, in conjunction with Hawtree Volunteer Fire Department, will host 2019 Fire Camp June 24-29. The camp will be held at the Hawtree department in the Wise community.
Fire Camp is six days of activities designed to expose youth ages 11 to 14 to firefighting, offering participants a chance to challenge themselves as well as create friendships that will last a lifetime.
Skills taught will include CPR, splinting and how to bandage injuries, vehicle fires and extrication, ropes and wilderness rescue, among others.
Camp will be held from 8 a.m. until 4 p.m. Monday through Friday, and 8 a.m. until 1 p.m. on Saturday. Camp T-shirts will be provided, as will lunch each day.
On Saturday, campers will participate in a competition, and camp certificates will be awarded.
Camp applications are available for download with this article.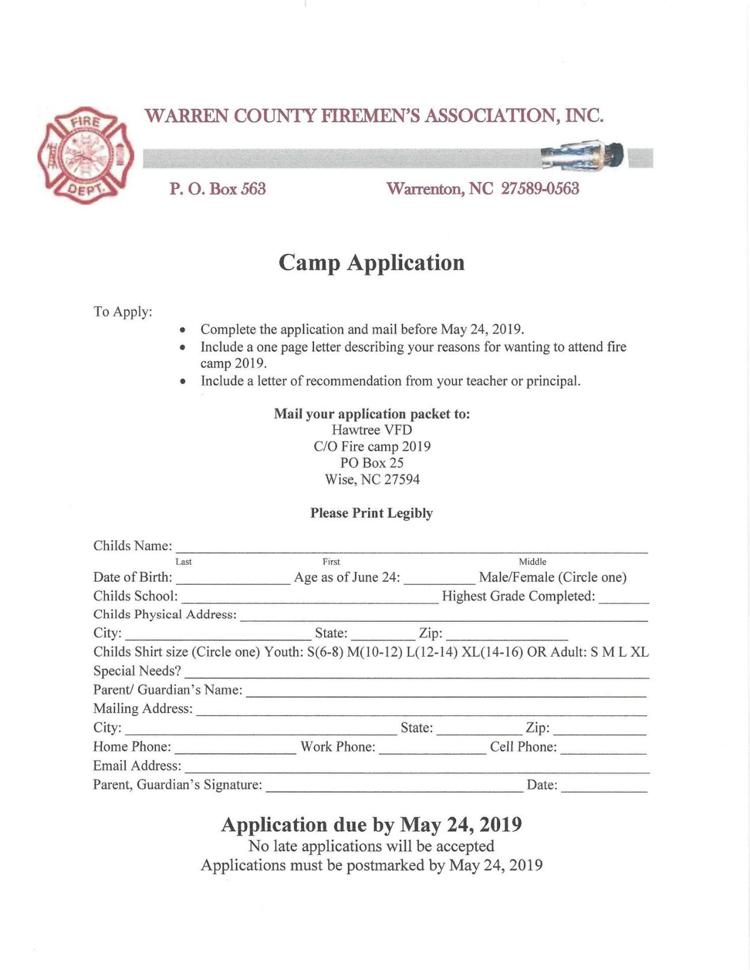 Hard copies of the application may be picked up from The Warren Record office at 112 N. Main St., Warrenton, Monday-Friday, 8 a.m.-5 p.m.
Applications, including a letter of recommendation from a teacher or principal and a one-page letter describing the applicant's reason for wanting to attend fire camp, must be returned to the Hawtree VFD or postmarked no later than May 24. No late applications will be accepted.