Graduation season officially arrived in Warren County last week when the principals of the local district's three public high schools placed posters with seniors' photos on the grounds of the Warren County Armory Civic Center in Warrenton.
Principals John Green of Warren County High School, Shena Judkins of Warren Early College High School and Jennifer Wilker of Warren New Tech High School gathered on the Armory grounds on May 13 to arrange the posters so they would be visible to motorists traveling along Highway 158.
"It is our way to recognize and honor our seniors," Wilker said.
Normally, the three schools celebrate their graduating seniors with a number of activities in the spring, but the COVID-19 pandemic and resulting school closures derailed this year's events. That didn't stop Green, Judkins and Wilker from wanting to do something special.
"COVID has tied our hands and restricted us from doing many of the typical senior activities," Judkins said. "In light of that, we were determined to find alternate ways to celebrate our students and to do what we could to celebrate our students and families in a way that will protect the safety of the students, families and our staff members."
At the direction of Superintendent of Schools Dr. Mary Young, the three principals met to discuss how they could honor the Class of 2020. They found inspiration from examples of how other school districts honored their graduating seniors before deciding on the poster approach, and made arrangements with County Manager Vincent Jones to display the finished product at the Armory, a county facility.
The principals utilized the services of an area business to print the final design, which includes a photograph of each senior with the wording, "Congrats Class of 2020," the senior's name and school on a background of the school's color.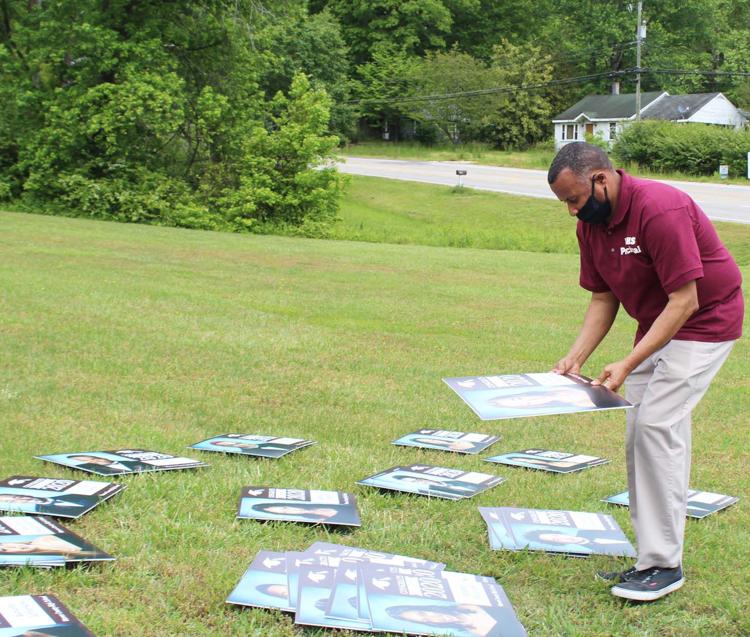 Green said that it was important to show the graduating seniors that while the novel coronavirus has changed many aspects of daily life, they are still to be celebrated for their accomplishments.
Judkins agreed.
"It was important to us to honor our seniors in this way because they have sacrificed so much because of COVID-19," she said. "… Showcasing our seniors in this way, as a district, lets the seniors and their parents know that we are proud of them, and we support them."
School staff members assisted Judkins and Wilker in arranging their schools' posters while Green sorted his by alphabetical order. Because Warren Early College and Warren New Tech are smaller than WCHS, it did not take long to arrange their posters. 
After finishing their work, Judkins, Wilker and other staff members helped Green install the WCHS posters.
As they worked, the principals reminisced about watching the seniors mature before their eyes. Green grew up with the parents of several graduates, while Judkins and Wilker taught a number of the students at the former South Warren Elementary School. 
"It was great to reminisce with Mrs. Judkins about the students we taught together and hilarious stories from their elementary years," Wilker said. "My South Warren babies will always hold a very special place in my heart because they taught me how important it is to have a caring teacher in the life of a child."
For Judkins, the posters also brought back more recent memories.
"For me, it was special seeing the faces of my students," she said. "Those pictures sparked a memory of happy days at WECHS, and I loved seeing the joy on their faces."
Members of the community are invited to stop by the Armory Civic Center grounds at 501 Hwy 158 business-east, Warrenton, to view the poster display while observing social distancing.
Students and their families may pick up the posters on Friday, May 22, to have as keepsakes of their senior year.
Green, Judkins and Wilker are grateful for the opportunity to work together to honor the Class of 2020 in a spirit of unity and family among the three high schools. The principals treasured the chance to show the pride they feel for all of the seniors, regardless of school.
"It shows unity and that, to me, no matter what school they graduated from, they are still Warren County graduates.