Describing the Haliwa-Saponi Tribal School Class of 2019 as leaders of today and tomorrow, Dr. Marvin M. Richardson challenged the graduating seniors during Friday's commencement exercises to be motivated to succeed while maintaining strong integrity.
"Your generation has been called the most diverse and globally connected," he said. "Experts say that you will change the world."
Richardson, director of the Haliwa-Saponi Legacy Project, told the senior class that they must consider what contributions they want to make in life, and to draw upon their passions and life experiences to shape their goals.
"You must deal with adversity," he said. "How you deal with adversity molds your character."
Richardson challenged the Class of 2019 to take practical actions now to ensure future success, including working to make good grades in college, pursuing internships, applying for scholarships, avoiding debt, being mindful of what they are conveying about themselves on social media and taking responsibility for their actions.
He told the seniors that, as they move toward individual success, they also have a responsibility to their community, of learning from elders, including their parents and grandparents, and of helping others.
Richardson challenged the Class of 2019 to also learn from people working in their career field of choice, asking what is important to them and how they have learned from their mistakes.
He asked the graduating class to embrace the idea that they are the future, and their actions can bring about change for the better, or for the worse.
"Work hard, take responsibility for your actions, have integrity, and help others," Richardson said. "It's up to you to control your actions, to have the strength and determination to succeed."
Haliwa-Saponi Tribal Chief Dr. Ogletree Richardson expressed wishes that the graduates would be successful as they officially moved into adulthood.
"You have reached a great milestone and deserve to be honored," she said.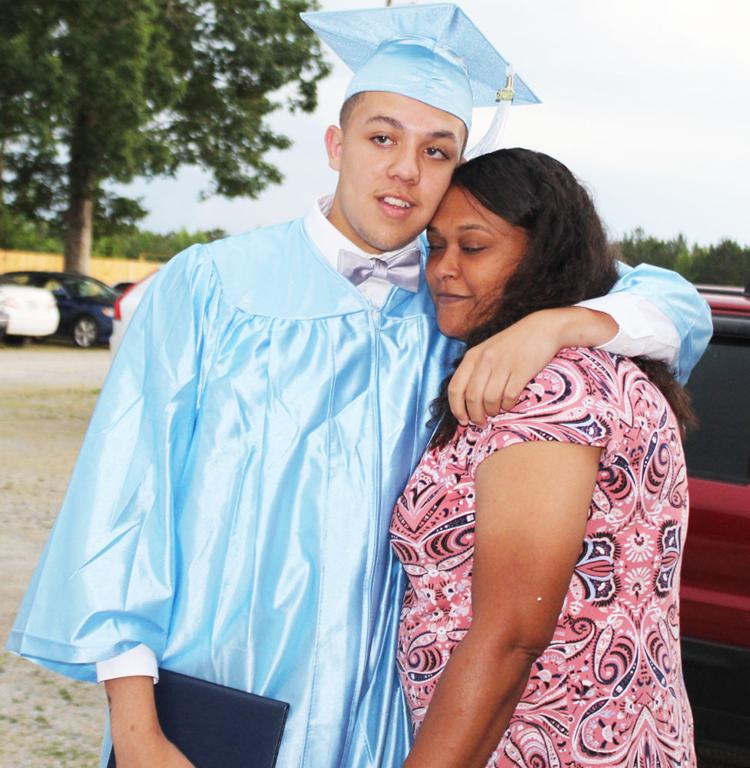 Five of the nine seniors graduated with honors. Two students made history as the first to complete Haliwa-Saponi Tribal School's occupational course of study.  
Student speakers included Daniel Wilson, who introduced Richardson; Jacob Hower, who led the Pledge of Allegiance; and Ryheim Baker, who gave the senior class address. Hower prayed that the graduating class would take the educational fundamentals they learned at Haliwa-Saponi Tribal School and apply them the rest of their lives.
Baker gave short tributes to each of his classmates, saying that he hoped the commencement ceremony would not be the last time they gather together in the same room.
"You have showed me what friendship should be," he said.
Baker congratulated his classmates on achieving their goal of graduating.
"I know we have made our families, our friends and the community of Hollister proud," he said.
The 2019 graduating class continued a commencement tradition by honoring family members and others who supported them through their educational journey by presenting them with flowers.
Social Studies teacher Richard Clemons was honored for four years of service to HSTS. In addition to honors in individual subjects, students were recognized as follows: Excellence in Leadership: Ryheim Baker; Excellence in Community Service: Daniel Wilson; Top Students in Occupational Study: Katrell Baker and Johnathan Hedgepeth; and Academic Excellence: Jaquavious Wright and Ryheim Baker.