Warren County Middle School observed "Start With Hello" Week last week to foster a culture of inclusion among students, and it did that and more, according to Principal Tracy Neal and organizer, School Counselor Colleen Neuer.
"The week was a huge success," Neal said. "It opened up a line of communication between students and staff."
A component of the Sandy Hook Promise, a national nonprofit started following the mass shooting at Sandy Hook Elementary School in 2012, "Start With Hello" Week was observed by schools and youth organizations nationwide this year Sept. 23-27. Its purpose was to teach students to "make a difference with their peers … and to take small but powerful actions to promote connectedness and inclusion, and to identify and help lonely students who are showing signs of social isolation."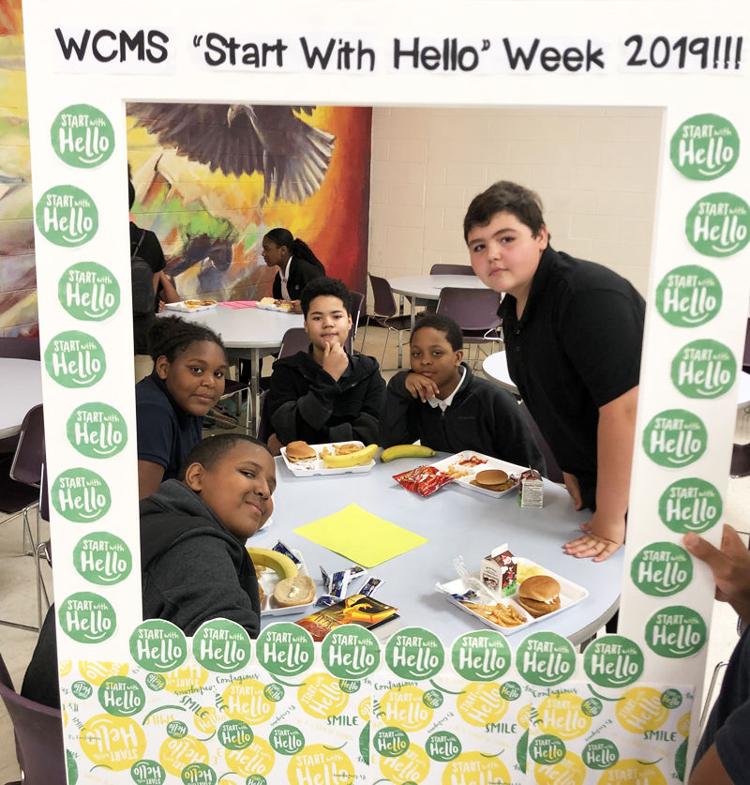 Activities held at WCMS included the following: Monday, special introduction announcements and a third-period activity called "In My Shoes," where students discussed where their shoes had been; Tuesday, "Hey Day," where all students wore nametags showing their first names to encourage them to pay attention to the importance of names; Wednesday, "No One Eats Alone Day," which encouraged students to seek out those who were eating alone in the cafeteria and sit down to eat and talk with them; Thursday, first-period classroom activity called "Human Bingo"; and Friday, "Selfie Sheet" exit tickets from Thursday's activity, which allowed students to reflect on ways to reach out and continue to combat social isolation, and finally, decorating the school's lobby to celebrate the week.
Neuer said that in discussions the first day during "In My Shoes," students learned about empathy when hearing stories about others' lives. On "No One Eats Alone Day," the school's student ambassadors, who helped plan the week, sought out peers who were eating lunch by themselves.
"Those kids were more engaged just talking to each other," she said of all the students, obviously pleased with how successful the week had been.
Participating in "Start With Hello" Week was a great way to start the school year and has made a noticeable change, Neuer said.
"It's opened up a culture of talking, and the kids are more comfortable in engaging in conversation because of this," she said. "The student response has been so positive, and the culture has shifted because of this."
For more information on "Start With Hello" Week, go online to sandyhookpromise.org and click on Prevention Programs.