When Hardware Cafe co-owner Aaron Ayscue posted an inquiry to the restaurant's Facebook page two Saturdays ago about the idea of offering produce, Melissa Pelfrey of Littleton replied, "Yes!"
She followed by praising Hardware Cafe's takeout options, including for breakfast, and closed her remarks with, "Y'all are rocking this pandemic!"
Takeout food already made up about a third of Hardware Cafe's sales, but for a customer to exclaim about both produce and takeout breakfast from a downtown eatery? Followed by the phrase, "rocking this pandemic?" Ayscue and co-owner Rachel Robertson probably couldn't have imagined a comment worded exactly like that when they took over the historic establishment on South Main Street in December, nor could they have foreseen the word "pandemic" cropping up in their social media feeds, let alone have entertained the idea of successfully "rocking" it. 
But here they are, like so many other small businesses, continuing to adapt to the coronavirus outbreak that has caused hospitalization numbers in North Carolina to rise to over 100, according to state officials. On Monday, a statewide stay-at-home order went into effect until April 29, restricting activities to essential business visits, outdoor exercise or aiding family members. An order limiting dining service to takeout, drive-through or curbside service had already been in place. 
So far, Hardware Cafe has been able to take the crisis in stride, maintaining about the same level of business as it did before, thanks in part to the ingenuity of its owners, who are also a couple of 10 years. 
"The name of the game is staying relevant and planning," Ayscue said of altering business practices.
Along with produce, some of the other changes customers may have noticed include an expanded dessert menu, aptly referred to as "Shelter in Place treats;" delivery; new spins on specials; 15-minute restaurant parking spaces, courtesy of Warrenton Mayor Walter Gardner; and as of Monday, the return to permanent hours—11:30 a.m. to 3 p.m. Monday-Friday—for The Wandering Dawg hot dog cart that Ayscue founded two years ago, but now with a fixed location in the lot behind Hardware Cafe.
If the name of the game is planning, Ayscue's extensive past experience managing grocery stores may have been the perfect preparation, not only for becoming a restaurateur, but evolving as one during a global health crisis. He was already baking breads, cutting meat and absorbing the business side of food before he dreamed up The Wandering Dawg and partnered with Robertson, the restaurant's general manager under previous ownership, to ensure the Hardware Cafe remained a Warrenton staple. 
"He's good at the books and the numbers," Robertson said, "and managing people, stuff like that... I'm better at the food and the customer service part."
The numbers part is a key factor in the duo's approach to staying ahead of the current COVID-19 challenges. Ayscue gave an example of normally having, say, a hundred customers buying a hundred drinks. Not being able to dine in usually means significantly less drinks being purchased. So Ayscue and Robertson have to find ways to fill in the gaps of lost profit. 
Preparing for business they might not even have can be a daunting prospect, Ayscue said. "It's a challenge that's kind of fun to meet because you get to do things that are out of the box. Make a new dessert or do a new special, do something silly. It's fun to experience that as it's happening, but it's terrifying to plan for."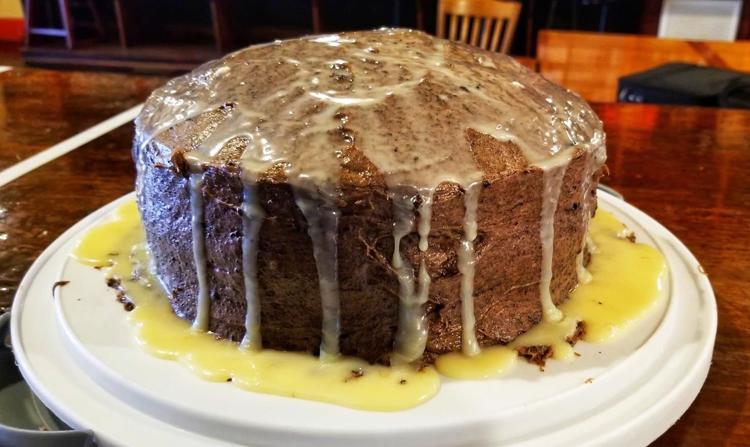 One of their tweaks was adding to the menu whole pies and whole cakes like the Oreo Overload, described on their Facebook page in mouthwatering fashion as a "decadent chocolate cake iced with chocolate Oreo cream cheese icing drizzled with white chocolate cream glaze." They sold just about every slice. 
Kendra Pierce drove from Littleton just for a Hershey Bar Cake, Ayscue's favorite, and a chocolate chess pie. 
"We have been really lucky with people showing a lot of support right now," Robertson said.
They added produce to the new refrigerated case at the front of the store, with offerings including apples, bananas, grapes, tomatoes, strawberries, and broccoli. 
And those changes aren't just for the bottom line. Warren County is home for both Ayscue and Robertson, who started working at Hardware Cafe in 2008. They're invested in this venture not only financially, but emotionally. 
"We're trying to provide more of a service than a product," Ayscue said, "so people in Warrenton wouldn't have to drive (to Norlina) in a parking lot full of people to get bananas."
Ayscue started making deliveries for customers within a 2-mile radius, free of charge, when the governor ordered dining rooms closed two weeks ago. 
Along with the desserts and produce, patrons can expect more grab-and-go items in containers, like chicken salad, pimento cheese and banana pudding. 
The most recent banana pudding creation stemmed from leftover bananas from the produce selection. Leftover apples may soon yield an apple pie. 
Nothing goes to waste here, and dessert sales have nearly doubled in recent weeks as a result. The pair also noted a rise in multi-orders; in other words, a regular, single-order customer buying extra lunches for the office or dinner items for home. 
Then there's that hot dog cart, the only game of its kind in town and the county that can be accessed from the BB&T parking lot. 
"They're premium hot dogs," Robertson said before Ayscue promptly added, "They're loaded down. They're not your average hot dog."
That means red dogs, beef dogs and sausages that can be buried in an array of toppings, some out of the ordinary, and some more customary like homemade chili and slaw. A combo with two dogs, chips and a drink goes for $5. 
Even though Hardware Cafe now offers the same menu items as The Wandering Dawg, Ayscue said the clientele is different. The Wandering Dawg caters to the on-the-go, blue-collar type of worker that Ayscue grew accustomed to serving around the county, so it should be a good complement to Hardware Cafe, especially in warm weather. 
For now, Ayscue will have someone else operating the cart, allowing him to stay inside the more-than-100-year-old Hardware Cafe building that features what are essentially the same shelves, floor and counters that have always been there despite the space serving as a restaurant the past two decades. 
Some customers remember reaching into a bin to snag a handful of nails in the old days. Since the original owners started the cafe, folks have been able to grab hardware-themed menu items like the Halter and Bit turkey sandwich or the Cowbell prime rib sandwich. 
It's the kind of aura that can't be replicated elsewhere, the kind its proud owners will fight for. 
"This is here," Ayscue said, "and it's not going anywhere."