Warren County is on the cutting edge of truffle research and production, thanks to the vision of Dr. Ed Powell, owner of Burwell Farms, which hosted the summer meeting of the North American Truffle Growers Association here on Saturday.
Some hundred people representing the association, county and university leaders, and others interested in finding out what the Burwell Farms team has been up to with this specialty, high-end food product gathered in an air-conditioned tent on the Powell family home place on Airport Road outside of Warrenton. There, they heard from Richard Franks, the truffle farm's chief science officer. Franks came out of retirement from working for the Powell family five years ago after he learned that figuring out how to grow truffles in the wrong place and in the wrong soil would be his challenge.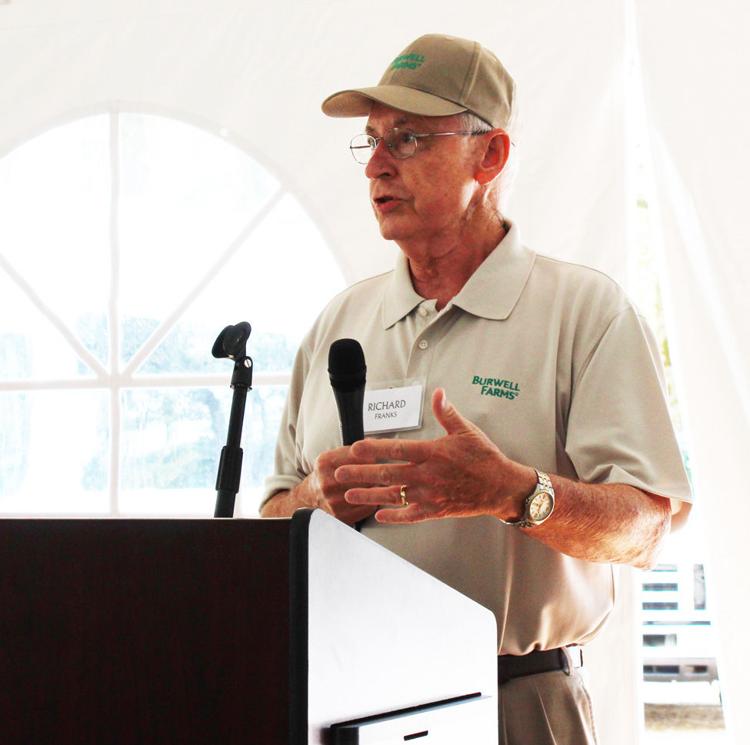 Powell got the idea for growing truffles on pine trees after his interior decorator read an article about it in a magazine, Franks said, and he wanted to try it.
"As many pine trees as you've got growing in Warren County, you ought to be able to grow truffles," Franks said the interior decorator told Powell.
Burwell Farms signed an agreement with a company that could produce loblolly pines inoculated with the tuber borchii truffle, a white truffle. Franks said it is not the high dollar white truffle, but what is known as the European whitish truffle.
The first weekend in June 2014, Burwell Farms staff planted two acres of trees inoculated with the tuber borchii, or bianchetto truffle, believing that in six to eight years they would find a truffle or two.
On Dec. 15, 2016, just 30 months later, a truffle was scratched out of the ground.
"It was immature, and it was small, but it was a truffle," Franks said.
In 2017 and 2018, the farm produced a few more truffles, and this year, during harvesting from mid-January through mid-March, Burwell Farms got enough truffles to become commercially viable, Franks said. They sold their product—described as earthy, garlicy, buttery and cheesy—to several restaurants.
Groups were transported Saturday to the nearby truffle plantation for a look at growing operations and a question-and-answer session. Franks said Burwell Farms' truffles grew in clay, though they weren't supposed to and no one knew why it worked. Many of his answers about the experiment into truffle growing were, "We don't know," which drew laughter from visitors. 
Truffle dog Laddie, a friendly yellow lab, gave a demonstration of how she works by locating two slices of truffle that had been buried at the edge of the trees. 
Following a catered lunch, Brian Upchurch, president of the North American Truffle Growers Association, led a brief meeting. 
He said that North Carolina leads truffle production in North America, followed by California, and that challenges are having a supply chain and finding adequate funding for research.
Nearly all truffles consumed in North America come from Europe, Upchurch said, but the big advantage for truffles grown here is their freshness: truffles from Europe are up to two weeks old when they get here, while North American-grown truffles can be delivered hours or the day after being harvested.
"It's a really exciting time to be in this business," Upchurch said.
With the quick success Burwell Farms has seen, Franks said following the meeting that plans are to continue planting additional inoculated trees while developing a system for growing truffles that costs less than the first two acres. 
"They're defining what the model looks like going forward," Warren County Economic Development Director Stacy Woodhouse said. "They're taking on a new industry and being very successful."
The trip to Burwell Farms likely left an impression on everyone who visited. Among those in the first group at the truffle plantation were Kristie VanAuken, vice president of Stakeholder Engagement with Research Triangle Park, and Scott Levitan, Research Triangle Foundation CEO and president.
"AgTech is critical to the success of the Triangle region and the state of North Carolina," said VanAuken. "Burwell Farms and their rows of loblolly pines are producing a culinary delight which could create more jobs in the future, while preserving the heritage of our strong farming culture. It was a pleasure to see their great work and other truffle growers come together right here in our backyard."