"Lynched by mob." 
These three words recently were added to the 1921 death certificates filed at the Warren County Register of Deeds office for Alfred Williams and Plummer Bullock, who met their violent deaths in Warrenton.
The additions to the death certificates were made as the result of a process involving the Williams and Bullock families, the Warren County branch of the NAACP, a University of North Carolina at Chapel Hill professor and his students, the Warren County Register of Deeds office, N.C. Department of Health and Human Services and the State Archives of North Carolina to correctly record local history. In turn, the local NAACP and UNC students want this example of violence to become a steppingstone toward confronting the past in order to bring about a brighter future for people of all racial and ethnic backgrounds.
A door to the past opens
Dr. Cosmos George, president of the Warren County NAACP branch, said that the journey to correct the death certificates began with the April 2018 opening of the National Memorial for Peace and Justice in Montgomery, Ala.
According to the memorial's website, the facility is housed on the site of a former warehouse where black people were enslaved. The memorial features more than 800 steel monuments, one for each county in the United States where lynchings took place. The memorial provides an opportunity for each of these counties to claim their monuments and install them on local soil.
George learned that the memorial contained two names from Warren County, North Carolina: Alfred Williams and Plummer Bullock, and said that the local NAACP has begun the process that would allow the Warren County stone to be installed here. The application process requires in part that residents of counties where lynchings took place form coalitions to discuss the violence of the past in order to come to terms with it in order to bring about a brighter future.
George and the local NAACP began to research the events surrounding Williams and Bullock's violent deaths in 1921. They found that the official death certificates recorded at the state and local levels were the same except for one thing: the document filed at the state level included the words "lynched by mob," while the one filed in Warren County did not.
After seeing the discrepancy, George contacted Warren County Register of Deeds Yvonne Alston. She and the register of deeds staff handle the recording and filing of official documents such as land transfers, birth and death certificates, but do not produce such documents themselves.
Alston was used to the process for amending birth certificates, but being asked about how to change two death certificates from 1921 was different.
"It's the first time I have been approached about a death certificate that far back," she said.
The request began a process of finding the correct state agency to provide instructions for correcting the two death certificates. Alston said that the N.C. Vital Records office in Raleigh contacted her, telling her to write in the words "lynched by mob" on Williams and Bullock's death certificates so they would match state records.
With those instructions, 21st century hands corrected a document written nearly 100 years ago. 
However, pieces of paper tell only one part about Alfred Williams and Plummer Bullock's lives. What else could the two men teach people living today? 
Finding hope in the face of violence
As George and the local NAACP researched the lynching of Williams and Bullock, they could find no Warren County newspaper accounts. Information from newspapers from North Carolina and other states, and other sources suggested that what ended in violence began with an effort by Plummer Bullock to buy apples.
Through his research, George developed a synopsis of what happened: Bullock went to a Norlina store to purchase 10-cent apples, which were supposed to be of premium quality. However, the apples he received were nothing like that. At this time when African-Americans were not expected to stand up for themselves, Bullock approached the store owner to say that he was not satisfied with the fruit he received. Words and threats were exchanged.
Several days later, Plummer Bullock, his brother, Matthew, Alfred Williams and others were at the train station in Norlina when there was an altercation, and shots were fired. More than 10 black men were confined in the old Warren County Jail. A mob later went to the jail, taking men including Williams and Plummer Bullock with the intent to lynch them.
While Williams and Plummer Bullock lost their lives, Matthew Bullock escaped to Canada. George's research indicated that officials at the local, then the state, and, finally, the national level appealed to the Canadian government to extradite Bullock to North Carolina. However, Canada stood firm, and Bullock established a new life there.
Williams and Bullock's legacies
While George and the NAACP researched Williams and Bullock from a Warren County perspective, UNC-Chapel Hill Associate Professor Glenn Hinson and his students were taking a more general approach of studying lynchings in North Carolina when they learned of the two men and knew of the memorial in Montgomery, Ala.
Two years ago, Hinson began teaching a class that would grow into "Southern Legacies: The Descendants Project," focusing on the lynching of Williams and Bullock.
By using archival research and other sources, Hinson's classes identified 20th century lynching victims not far from Chapel Hill with the intent of interviewing their descendants. Archival work and discussions with Warren County residents, including George, led to the Warren County men.
"This was the only instance we know of with a dimension to it, not just trauma. One of the potential victims escaped," Hinson said.
Hinson and his students engaged in an extensive study, traveling to Warren County as part of their efforts to locate Williams and Bullock's descendants.
They learned that most of the men's relatives left North Carolina shortly after the lynchings. Hinson and his class found descendants in such locations as New Jersey and Washington, D.C./Baltimore, Md., and conducted some interviews via phone.
However, the students and Bullock's descendants were not able to meet in person until last fall, when they gathered at the National Museum of African-American History in Washington, D.C., where students interviewed 10 people tracing their lineage back to Plummer/Matthew Bullock.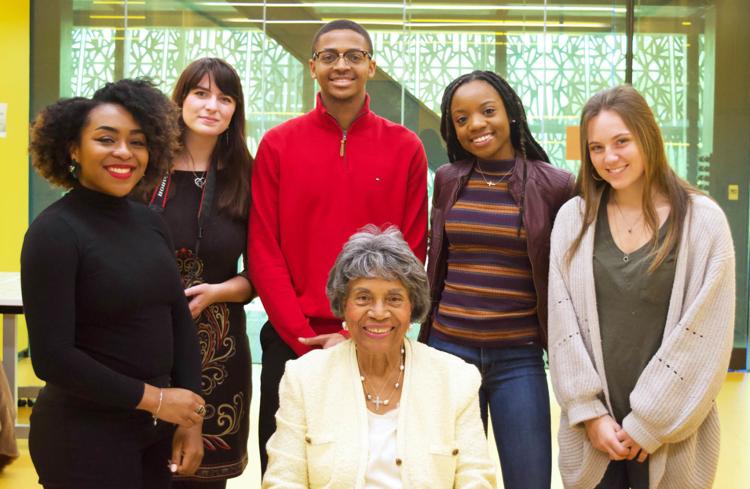 Recordings of these interviews are in the UNC archives to become available for public use. Hinson said that future plans include creating a website which will feature the interviews, and to include them in the Southern History collection at the Smithsonian in Washington, D.C.
"We're doing what we can to further the bigger project of truth-telling and reconciliation," he added.
Building a better legacy
How can the people of today change Alfred Williams and Plummer Bullock's legacies from that of horror and anger over their lynchings to determination that their deaths can lead to a better future for those of all racial and ethnic backgrounds?
Both Hinson and George have ideas for where to start.
Hinson and a new group of students plan to come to Warren County this fall to carry on the search for Williams and Bullock's direct descendants. Last semester's work led to promising leads on possible descendants in Henderson and Florida.
George and the NAACP will continue their work to build a local coalition to, first of all, bring the subject of lynching to the forefront. The coalition will have a frank discussion about local history and use what is learned as a building block to make the community stronger.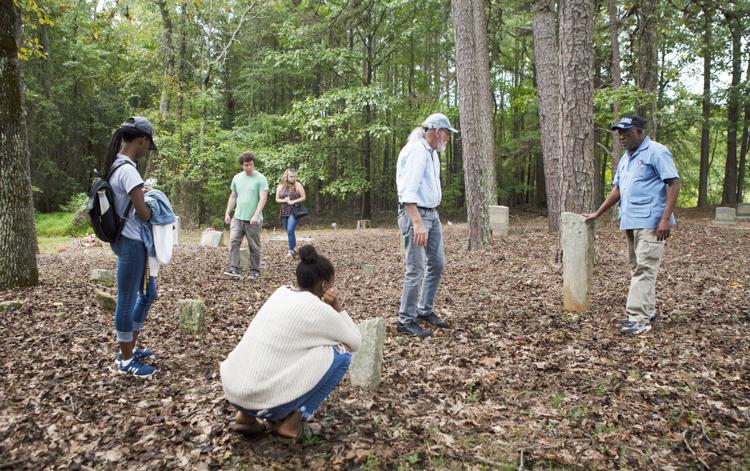 The NAACP will work to complete the process for obtaining the Warren County stone from the Montgomery, Ala., memorial and hope that it will become the cornerstone of a local museum honoring the victims of past violence.
Before any of that can be achieved, the past must be addressed.
"In areas where lynchings occurred, it is not discussed," George said. "If you don't talk about it, you will never reconcile."