The sign on the door announced a business closing with "heartfelt emotions." The owner couldn't bear to put it up herself, so after she left that day, she asked someone else to do it for her.
Within hours, text messages were flying, pictures of the sign were shared and phone calls were made. Customers couldn't bear it, and they sprang into action.
The next morning, people showed up at King's Fitness in the former Just Save shopping center on East Macon Street in Warrenton to see owner Rhonda Goode, to find out what was going on, ask what they could do. 
They stopped in without an appointment at Warrenton Town Hall to see Town Administrator Robert Davie and called on county Economic Development Director Stacy Woodhouse, both business development guys, to say please do something.
And it was on. A full-court press to save a small business that customers said they couldn't live without and that the county needs. Down came the closing notice, and before too long, with help from Davie, Woodhouse and customers who also brought their business backgrounds to bear, Goode had some free help and a plan for staying open.
Some statistics show that 50 percent of small businesses fail after five years. King's Fitness was almost at the five-year mark when Goode felt the sting of increased expenses and loss of customer loyalty when a national chain opened one county over.
"It was heartbreaking when I made the decision to close," Goode said. "My customers are like family. We talk about our lives, I know about their doctor visits. They come in here to improve their health."
Among members at King's Fitness was Sharon Thompson, who said if she had to drive 20 minutes to get in a workout, it just wouldn't happen.
"It's by far one of the best things I've ever done for myself," she said. "I never thought I would like coming to a gym."
 "I've met so many nice people here," Harriet Cooper said. "It makes it go by so much quicker."
Thompson agreed.
"It makes it a lot easier to exercise," she said. "It helps motivate you."
Cooper added that having a local owner rather than a franchise run by people you don't know is a plus.
"Rhonda is so accommodating," she said.
"She really cares about the people here," Thompson added.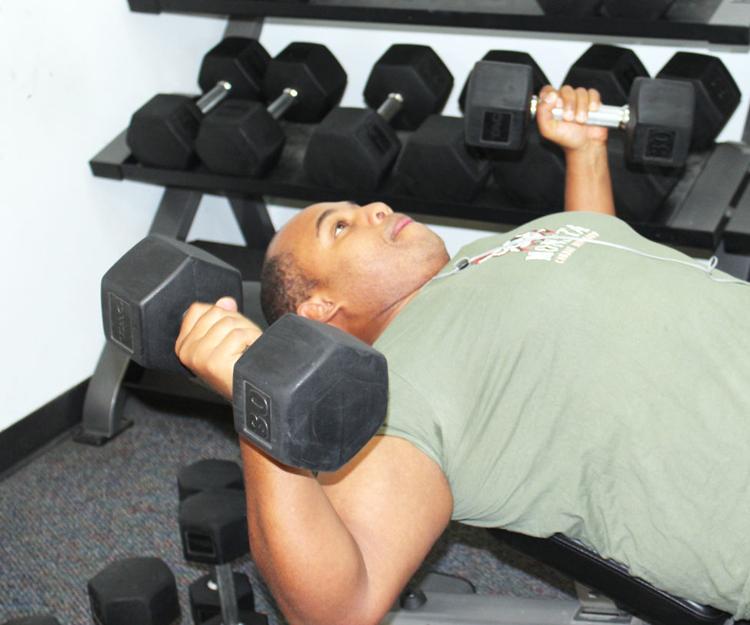 Member Thurletta Brown-Gavins, who gets in two to three miles of walking a day at King's Fitness, appreciates having a safe place to maintain her exercise routine where there are no stereotypes.
"They have excellent equipment and healthy smoothies," she said.
Sometimes referring to themselves as The Golden Girls, Siegrid White, Betsy White and Elizabeth Smiley work out together at King's Fitness five days a week on the treadmills and stationary bikes.
They've developed a close friendship with Goode, and took her out to lunch for her birthday recently.
Smiley said she was really upset when she heard that King's was closing.
"We've made a lot of new friends here," she said.
"We went into panic mode," said White. "She (Goode) sent us a letter before it got out."
The ladies were used to talking with Goode—their friend, not just a business owner— about their doctor's appointments, shared diets and other things about their lives. 
"She cares about our health, and it helps time go by faster when we talk about issues," Siegrid White said. "Coming here, we're not just healing our bodies; we're healing our minds and souls."
Warrenton police officer Michael Vaught appreciates that the town has recently added gym membership as an employee benefit, especially since the gym has 24-hour key card access, a plus for people with rotating work hours.
"It's convenient here in town and not as crowded like larger gyms," he said. "People are friendly, and they have nice equipment, and there's a good variety."
Another plus, he said, is that King's Fitness customers are courteous.
"People wipe the equipment down when they're finished using it," he said, laughing. "Most people at big gyms don't care."
Goode said she thanks God that she was able to stay open through the support of the town, county and caring customers. King's Fitness is now a part of the Silver Sneakers program, offered through many insurance companies, and will be adding showers and additional fitness equipment.
"We have some wonderful members, and we look out for one another," she said. "My advice for other small businesses is, don't let it go this far before you reach out. There are people willing to help you and give you good ideas to enhance your business."
For their part, Davie and Woodhouse said they are always available to offer guidance and resource referrals to local businesses, from building websites and marketing, to consulting and general problem-solving.
"This office is very passionate about helping our businesses," Woodhouse said. "If we can help save one that is already here, it's like gaining a business."