It was almost a complete changing of the guard in Norlina as the board of town commissioners and a new mayor took the oaths of office during the town board's regular meeting Monday night.
Wayne Aycock, a longtime commissioner, assumed the duties of mayor. In that capacity, he succeeds Dwight Pearce, who retired last month after heading up Norlina's government for almost 12 years. Aycock has served on the town board off and on since 1991.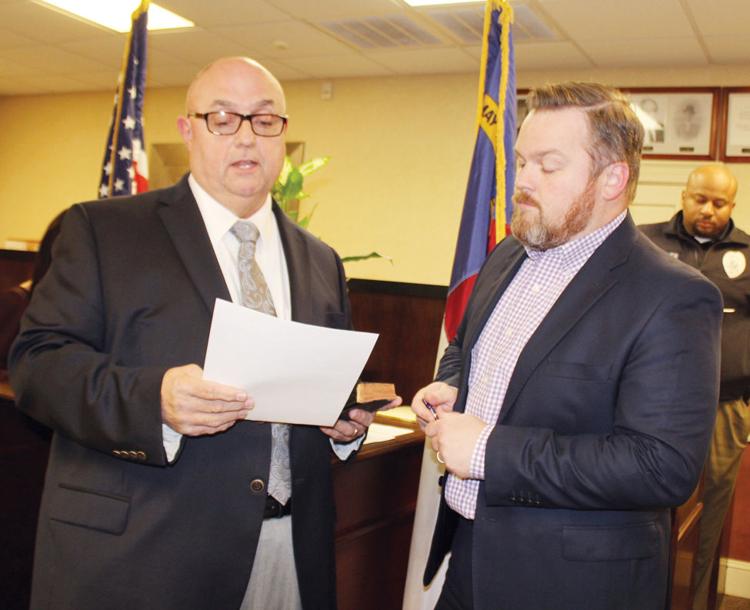 Tyrone Simes, the only returning incumbent, began his second term on the Norlina Town Board. Bill Harris and Lou Stultz, both members of the previous board, did not seek re-election this fall, and Jimmy Overby narrowly lost in the municipal election after serving on the board for more than 30 years.
Simes received the most votes among town commissioner candidates in last month's election, making him the mayor pro tempore.
Returning to the board after periods of absence were Claude O'Hagan and Charles Smiley. O'Hagan previously served as a town commissioner from 2015-17, and Smiley served on the board in the 1990s and early 2000s.
Taking seats on the town board for the first time were  Dennis Carrington and Roger Jackson. In the local area, Carrington serves as assistant principal at Warren County Middle School and pastor of Saints Delight United Holy Church. Jackson is retired as bookstore manager at Vance-Granville Community College and owner/operator of Framing Junction.
Aycock expressed optimism about Norlina's future.
"I feel like I have a good board to work with," he said. "I hope we will make a lot of changes for the better. I hope a lot of good things will happen."
FirstNet
The board heard a presentation about FirstNet, a nationwide wireless broadband network designed solely for first responders.
FirstNet capabilities came to Warren County in August at the same time as the addition of two new cell tower sites, one near Warrenton and the other near Lake Gaston.
The network creates a bandwidth that gives communications by emergency personnel who sign up for the FirstNet service priority over everything else.
According to its website, FirstNet came about as a result of the Sept. 11, 2001, terrorist attacks. Land and mobile phone lines were so overwhelmed by a high volume of calls that communication systems used by law enforcement, firefighters and paramedics could not operate easily.
FirstNet (the First Responder Network Authority of the United States) was created in 2012 as an independent authority within the National Telecommunication and Information Administration. In 2017, FirstNet selected AT&T to build and manage the broadband network.
Aycock told the newspaper on Tuesday that FirstNet provides another communication option for emergency personnel, such as law enforcement, firefighters and emergency medical services.
Interim Police Chief Keishawn Mayes on Tuesday said that a FirstNet representative met with him, Norlina Public Works Director Blaine Reese and Lou Stultz before her tenure on the town board ended. Mayes sees a number of advantages with FirstNet.
"In emergency situations, our phone lines would always work, and (emergency personnel) would have priority," he said.
Mayes added that if the police department's radio system goes down, FirstNet can function like a radio system, keeping the communication lines open.
Aycock said that the town of Norlina currently provides cellphones to police officers. He noted that details about a potential agreement with FirstNet have to be worked out, and that a change in cellphone service would need approval from the town board. If approval is given, police officers would then be responsible for signing up with FirstNet.
Mayes on Tuesday mentioned establishing an account in the police department budget to cover expenses related to FirstNet, but plans for payment would need to be finalized if the board grants approval.