Late-game scenarios don't come much more pressure packed than the one Juwan Hargrove found himself in Friday against Louisburg. 
With the score tied at 47, the Warren County boys basketball senior came off the bench with 1.6 seconds left in the game, needing to sink at least one of two free throws to help clinch a home game Monday in the opening round of the Northern Carolina Conference tournament. 
No pressure, right?
Not for Hargrove, who missed the first shot, then nailed the second to lift the Eagles to a 48-47 win, capping a Senior Night sweep at Warren County in which the varsity boys, varsity girls and junior varsity boys each won on the same evening for the first time this season. 
The Eagles' girls outlasted Louisburg 40-36 and played on the road Monday in their conference tournament. 
Warren County varsity boys' coach T.J. McRae summed up the trio of victories. "I couldn't ask for a better ending," he said.
McRae couldn't have asked for a more clutch shot than the one Hargrove delivered, either. 
Hargrove ended up at the free throw line despite Deaven Hawkins earning the shooting foul.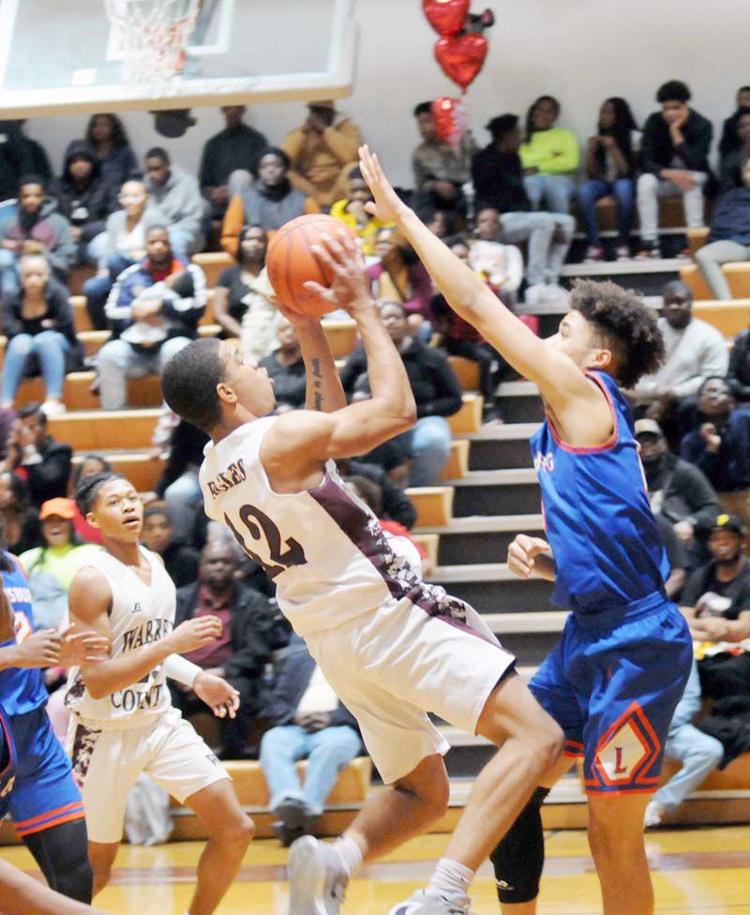 Coming out of a timeout with 3.6 seconds left, Hawkins drove the base line and drew contact when he went up for a shot near the left side of the goal. The senior injured his knee, prompting an on-court visit from the trainer, meaning the 5-foot-8 guard would be required by rule to sit out for the next sequence. 
McRae turned to his bench to figure out which player to swap in for Hawkins. His bench was emphatic it be Hargrove, a key contributor Friday off the bench, but one who hadn't taken a free throw in the game and was just 1 of 5 from the field with a 3-pointer. 
"I ain't gonna lie, it was a heartbreaker," said Hawkins, who finished with a team-high 14 points along with Andrew Smith, "because I really wanted (to take the shot), but I knew my boy was going to knock it down."
But with the gym roaring with excitement and taut with tension, Hargrove misfired on the first shot, though it looked good leaving the southpaw's hands before rimming out. "I knew the first one was going to be off because my legs were shaking a little bit," he said. "But then I calmed down and took a deep breath and told myself, 'You got this. You got this next one.'"
Hargrove's next toss didn't leave any doubt. 
Louisburg (15-8, 5-7) still had time to steal a win, but Jo'Ron Davis's last-second shot from near halfcourt only grazed the front of the rim, ending the game and sliding the Warriors to the fifth seed in the league tournament. 
A loss could have dropped Warren County (9-12, 6-6) down as far as the sixth seed, making Hargrove's shot all the more pivotal. Instead, the Eagles snagged the third seed and a matchup Monday against No. 6 Bunn, which they won, advancing them to the semi-finals Wednesday, Feb. 19.
Hargrove, Hawkins and Smith were joined for Senior Night festivities by classmates Roshene Mills, Josh Robison and Malik Hargrove. 
Warren County also honored seniors Z'hnyah Henderson, Caitlin Harrison and A'kyla Harrington from the girls' team, which edged Louisburg (8-13, 2-10) behind 17 points from sophomore Jada Marks. 
Led by first-year coach April Macon, the Eagles (7-11, 4-8) have battled through adversity this season, having finished a few games with four or fewer players, and rounding out the season with a total of eight players. 
Marks missed about half of Warren County's games while recovering from a knee injury suffered last season and saved her best performance for the regular season finale, scoring eight points in the final quarter, including shooting 6 of 8 from the foul line down the stretch. 
"We had to know each other's game," Marks said of her team's improvement throughout the season. "We had to communicate so we could work together and come together as a team."
Henderson had a big night as well, tallying 10 of her 15 points in the second quarter and helping the home team rally from an early 10-point deficit to take a 19-17 halftime lead. 
Henderson also converted a huge pull-up 3 midway through the fourth quarter to spur on Warren County, which picked up the fifth seed in the girls' tourney and played at No. 4 Granville Central on Monday. 
The Eagles' junior varsity boys started Senior Night with a 46-44 win over Louisburg and were led by 10 points from both Rocky Carter and Jah'Quell Hendricks. Ta'Kyler Evans chipped in a pair of threes.