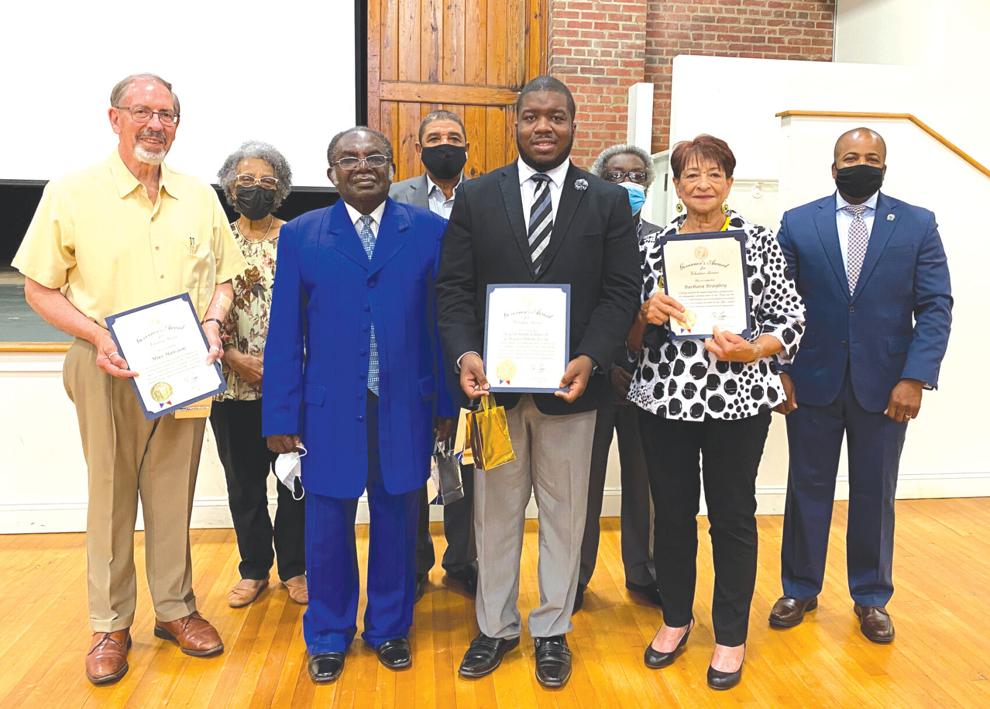 Five Warren County citizens were publicly recognized for their selfless work within the community Monday night, during the Warren County commissioners' meeting, as recipients of the Governor's Volunteer Service Awards. They are: Felton B. Davis, Jr., who also received the Governor's Medallion Award for Volunteer Service, one of only 22 recipients statewide; Stanley Jones, Jr. and Jamar Perry, Barbara Brayboy, and Mike Hairston.
Crystal Smith, director of Warren County Cooperative Extension and award coordinator, described numerous benefits of volunteering, saying it promotes personal growth and self-esteem, allows you to give back to your community and make a difference, allows you to gain personal experience, and is good for you.
The volunteers were recognized with framed certificates and pins from the governor and with personalized facemasks from the county.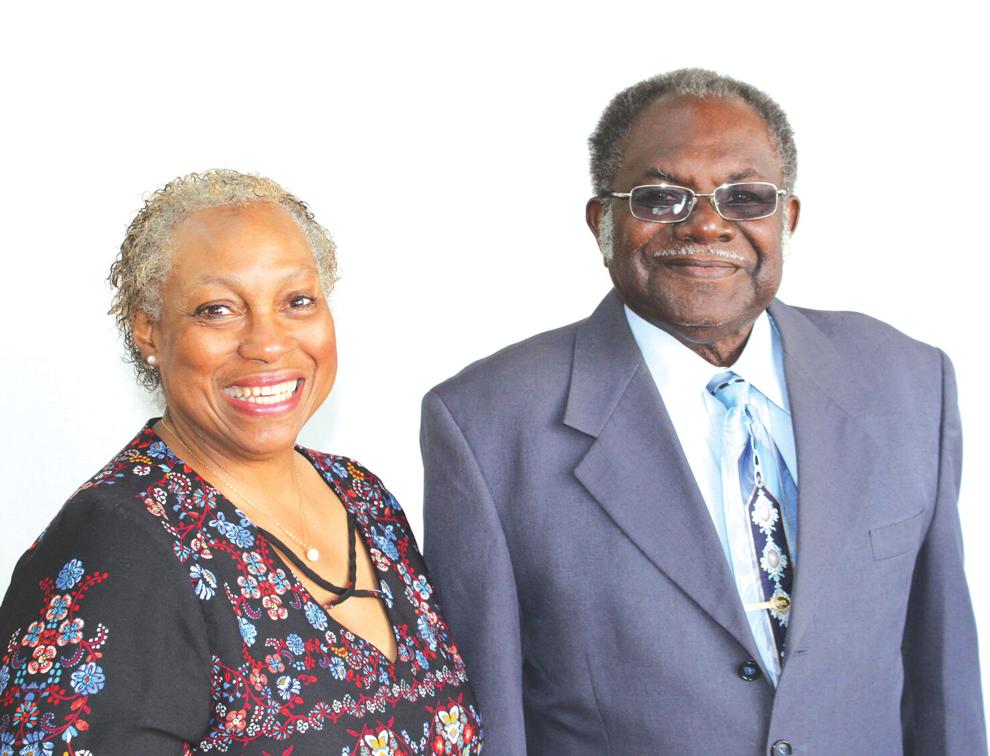 Felton B. Davis, Jr.
Describing Davis as a "gem of Warren County," Shauna Williams, president of the Warren County Community Center's Board of Trustees, nominated him for the Governor's Medallion Award for Volunteer Service and joined Monday's meeting via videoconference. 
The oldest of 11 children raised in neighboring Franklin County, Davis told the newspaper that he always tried to help others and always had a concern for children. 
He holds a bachelor of arts degree in education and served for two years in the U.S. Army.
He is a retired math and science teacher who worked at Northside Elementary his first five years here, then at South Warren Elementary for 25 years before retiring.
Davis moved to Warren County in 1966 when he married his late wife, Constance, and began his volunteer work here with the Warren County Community Center, among other organizations. 
Williams described his persistence and perseverance for keeping the Community Center going, and for recognizing how important its history was.
According to his award nomination form, Davis has served on the Community Center board of trustees for 65 years and kept the organization going almost single-handedly for years when other board members were unable to serve. He is currently its vice president.
The 82-year-old Davis volunteers an estimated 30 hours per week and also is involved with American Legion 547, Warren County 4-H Leaders Association, Warren County Emancipation Proclamation Board, Phi Beta Sigma Fraternity and Warren County Retired Teachers Personnel. 
Davis has also been president of the North Carolina General Baptist State Convention Ushers Auxiliary, Warren County Sunday School and Baptist Training Union Convention and the Warren County Friends of Black Children. Also, he has served as secretary of the Reedy Creek Association.
Also, Davis is an active member of Spring Green Missionary Baptist Church, where he is chairman of the Deacon Board, member of the Ushers Ministry and a singer in the Senior Choir and Male Chorus.
A humble man, Davis has a foundation in Christianity, and Williams said he clearly lives his beliefs through service to others, mowing lawns, providing transportation for those who need it, and picking up groceries for neighbors.
"It's that extra bit of service that makes him so outstanding," she told the newspaper.
After retirement, Davis volunteered with Warren County Schools as a reading mentor and judging science fairs, among other service. In 1993, he established The Felton B. Davis Award at South Warren, where annually he gave two graduating fifth-graders $25 based on outstanding citizenship.
His nomination describes him as "a gentleman with a gentle manner, a sweet disposition, a man of God with a big personality and a big heart, working without fanfare, improving the lives of the citizens of Warren County."
Stanley Jones, Jr. & Jamar Perry
The Rev. Dr. Tony Cozart of Cooks Chapel Missionary Baptist Church nominated Deacon Stanley Jones, Jr. and Trustee Jamar Perry for their work in feeding the community during some of the toughest months of the COVID-19 pandemic last year. Perry was unable to attend the meeting.
Cozart also joined Monday night's meeting via videoconference to describe the Beacon of Light Meal ministry, which Jones and Perry spearheaded, that allowed seniors to obtain meals after the pandemic caused food insecurities and limited food supply of local restaurants. 
"Their joy comes from seeing people being blessed," he said.
The nomination form states that Jones and Perry spent many hours promoting the events, purchasing and preparing the food, and serving beginning in March 2020, when pandemic restrictions began; and also, that they partnered with the Warren County Senior Center in an effort to reach seniors in the entire community,
The food program lasted until August when the availability of food was more plentiful.
The two church leaders also planned a Grandparents' Luncheon, a meal for veterans, and a community chicken sale at the church during the time when food supply was limited.
The nomination form states that Jones and Perry are instrumental with planning of the Martin Luther King Community Celebration, support of the Warren County Community Center, Warren Hills Rehabilitation & Nursing Center, support to subsidize medicine costs at the local drug store, and that they worked to enhance the church's technology equipment in order to share services with the larger community.
Barbara Brayboy
Stacey Williams was on hand to introduce her nomination of Barbara Brayboy's volunteer work in Warren County.
Brayboy's nomination form describes her work with the Warren County Juvenile Crime Prevention Council, which includes planning and implementing programs for After-School tutoring at the Boys and Girls Club. She has also partnered with Warren County Cooperative Extension on activities for troubled youth and provided expertise through volunteer work from her experience as an educator in various roles for more than 40 years.
She serves on the board of trustees for Warren County Memorial Library and is an active member of the Warren County Chapter of NAACP and participates in the "Get Out the Vote" campaigns and volunteers at voting polls to share election materials.
Brayboy is credited with coordinating the first Community Christmas Tree for the Haliwa-Saponi tribal community, which became an annual tradition.
Also, she serves as a longtime member of the Warren County Aging Advisory Council, advocating on behalf of older adults, serves as a liaison with various agencies, and assists in reviewing and evaluating the programs and services provided by the Warren County Senior Center. In this role, Brayboy has been a strong advocate for increased funding of medical transportation services for the elderly and disabled. 
She has also advocated for increased funding of the nutritional programs at the Senior Center and encouraged donations of personal care items to the Senior Center for distribution to home-delivered meal clients and others in need.
Mike Hairston
Ron Skow addressed the volunteerism of Lake Gaston resident Mike Hairston and his work with Habitat for Humanity and two county committees.
A member of Warren County Habitat for Humanity for several years, Hairston became its president in 2020 and ensures that the organization follows federal regulations in providing quality homes for qualified families. Also, he helps facilitate effective and efficient operations at Habitat's resale store, which sells donated items to the community and uses the proceeds to fund its homebuilding efforts.
Hairston is also a member of the Warren County Citizens Advisory Committee, which was formed by the county commissioners to be a resource for communication with the community and was selected by the committee to be its spokesperson. The committee has worked on a variety of issues, most recently the 2020 Census.
In addition, Hairston volunteers on the Warren County Courthouse Square Memorial Committee, tasked by the county commissioners to determine what, if anything, will replace the removed Confederate monument on Courthouse Square in Warrenton.
Hairston has been a regular attendee at county commissioner meetings in order to stay informed about what is happening around the county, information that he uses while being a volunteer of these three groups.
About the awards
The Governor's Volunteer Service Award honors volunteerism by recognizing individuals, groups and businesses that make a significant contribution to their community through volunteer service. Any person, group, or entity from the public, nonprofit and private sector may be nominated for an award to their county award coordinator. 
County award coordinators submit their top 10 volunteer nominations per county. There are categories for the type of nominee (senior, youth, faith-based, family, group, business, etc.). Additional categories are based upon the area of service (animal, environmental, disaster, youth, preservation, etc.). 
The Governor's Medallion Award for Volunteer Service was implemented in 2006 to recognize the top 20-25 volunteers in the state. Medallion recipients are nominated at the county level. Only one "medallion" nomination is permitted per county. 
A statewide panel reviews and evaluates all these nominations to determine the award recipients. 
Medallion Award recipients are honored at an annual recognition ceremony. The medallion is placed around the neck to signify the volunteer's service to the community.