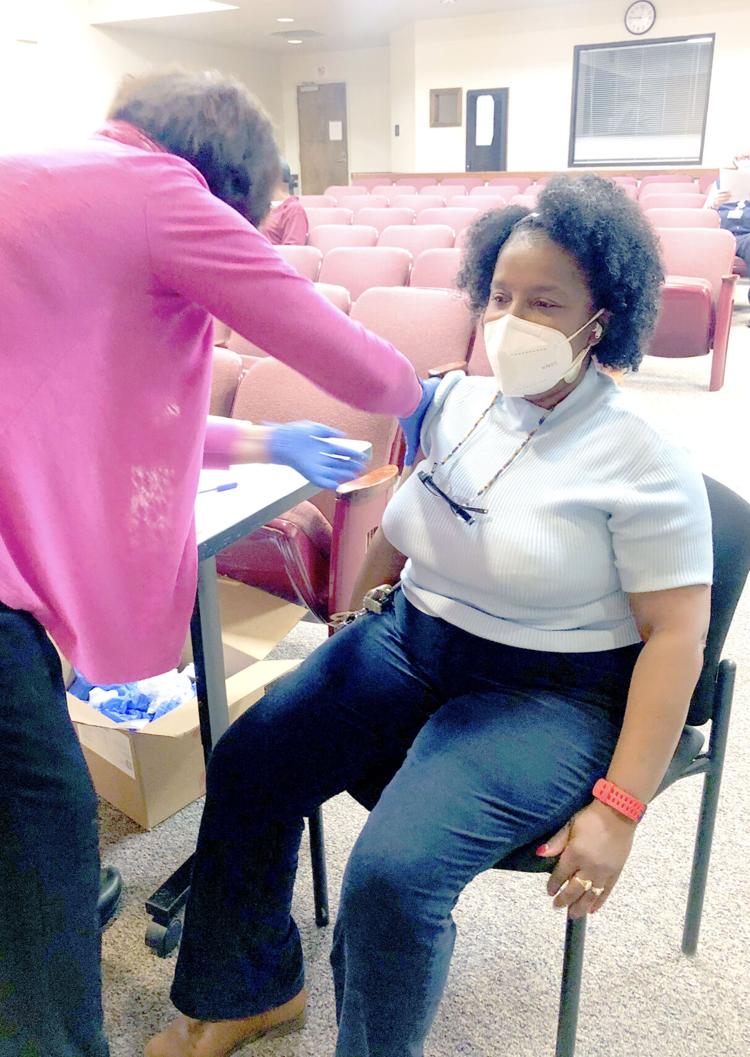 As healthcare workers in this area of North Carolina begin to receive COVID-19 vaccinations, Tilda Hendricks of Warren County described her experience receiving the vaccine last week.
Hendricks, who operates Hendricks Insurance Agency, Inc. in Warrenton, also serves with the Volunteer Services Department at Maria Parham Health in Henderson as a hospital chaplain. She said that because her work as a chaplain brings her in contact with patients in their rooms, she had the option to be vaccinated for COVID-19.
"I am working a lot with seniors age 65 and older," she said. 
Hendricks noted that COVID-19 has had an impact on a number of Warren County families, including her own. She has lost several relatives to the virus.  
"A couple of my cousins are battling COVID," Hendricks said. "Whether they are close kin or distant, we can all relate to losing someone to COVID."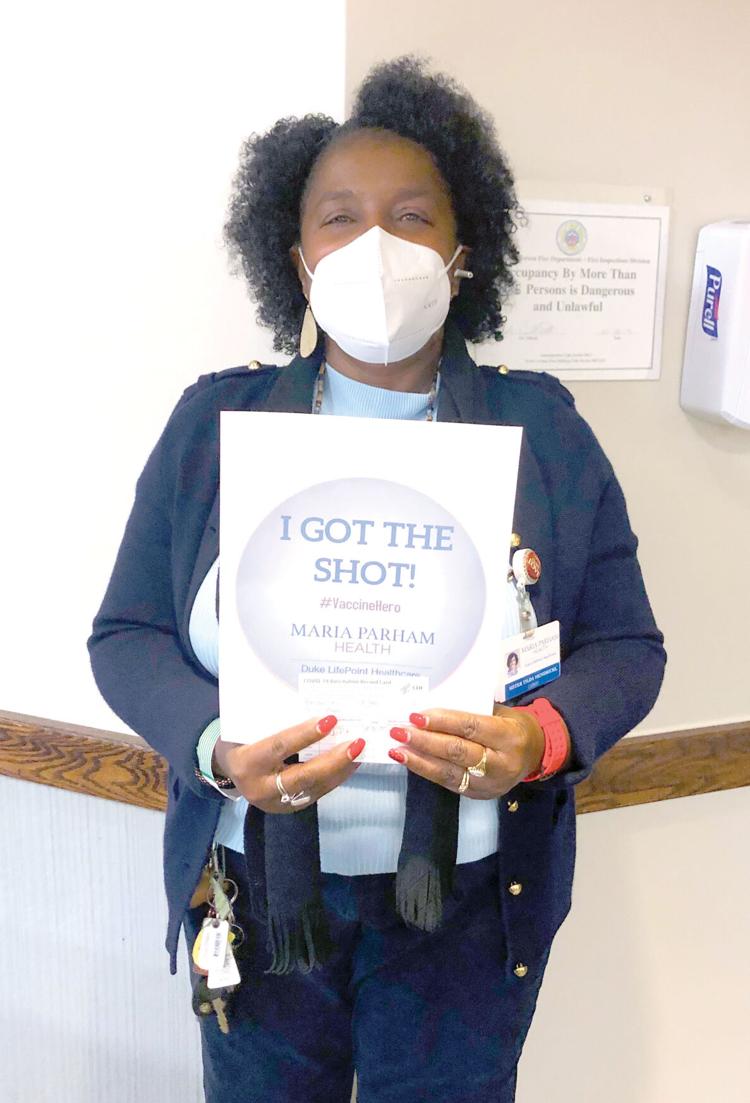 When given the option to receive the vaccine, she did not hesitate. Hendricks wanted to be an example to the community of how people can protect themselves and their loved ones.
"I wanted to put a face to the vaccine," she said. "People can say, 'Hey, it's Tilda. She's from Warren County. I know her."
Hendricks made a appointment to receive the vaccine at Maria Parham Health. When the time came, she went to a socially distanced room, completed a registration process which included general health questions and was vaccinated.
"It felt no different than the flu shot," she said. "I did not feel the injection going in."
As a precaution, Hendricks was asked to wait 15 minutes after receiving the shot before leaving, but she felt no ill effects.
Hendricks returned to her normal activities. The day after the vaccination, she still said she was doing well. Hendricks did not experience headaches, fever or any other side effects — just a sore arm like someone could experience with any vaccination.
She will receive a second dose of the vaccine in a few weeks. Hendricks is grateful for the opportunity to receive the shot so that she will be able to safety visit patients at the hospital and to relieve any suspicions that local residents may have about receiving the COVID-19 vaccine.
"Get the shot when it's your turn," she said. "I feel that the entire community will be safer (if we all) get the shots."
Health department prepares for vaccines
Warren County Health Director Dr. Margaret Brake said that vaccinations for healthcare workers, and residents and staff of long-term care facilities in Warren County could begin by the end of this week or early next week.
She noted that the state has established the following phases for administering vaccines:
1a. Healthcare workers fighting COVID-19 and long-term care staff and residents. This includes healthcare workers caring for and working directly with patients with COVID-19, including staff responsible for cleaning and maintenance in those areas; healthcare workers administering the vaccine; and long-term care staff and residents — people in skilled nursing facilities and in adult, family and group homes.
1b. Adults 75 years or older and frontline essential workers. Because there is not enough vaccine for everyone to be vaccinated at the same time, vaccinations will be provided for groups in the following order:
• Group 1: Anyone 75 years or older, regardless of health status or living situation
• Group 2: Healthcare workers and frontline essential workers 50 years or older: first responders such as firefighters and police officers, corrections officers, food and agricultural workers, U.S. Postal Service workers, manufacturing workers, grocery store workers, public transit workers, and those who work in the education sector (teachers and support staff members) as well as child care workers
• Group 3: Healthcare workers and frontline essential workers of any age
2. Adults at high risk for exposure and at increased risk of severe illness. Vaccinations will happen by group in the following order:
• Group 1: Anyone 65-74 years old, regardless of health status or living situation
• Group 2: Anyone 16-64 years old with high-risk medical conditions that increase risk of severe disease from COVID-19 (such as cancer, COPD, serious heart conditions, sickle cell disease, Type 2 diabetes) regardless of living situation
• Group 3: Anyone who is incarcerated or living in other close group living settings who is not already vaccinated due to age, medical condition or job function
• Group 4: Essential workers not yet vaccinated: workers in transportation and logistics, water and wastewater, food service, shelter and housing  (such as construction), finance (such as bank tellers), information technology and communications, energy, legal, media, and public safety (such as engineers) and public health workers.
3. Students: Includes college and university students; and K-12 students age 16 and over. Younger children will only be vaccinated when the vaccine is approved for them.
4. Everyone who wants a safe and effective COVID-19 vaccination.
According to state health officials, the COVID-19 vaccination will be available free of charge for everyone, whether or not they have health insurance.
After someone receives a first dose, he or she will need to receive a second dose of the vaccine in three to four weeks. Those receiving vaccinations will receive a printed card and email reminder of when to get the second dose.
State health officials continue to urge the public to practice the 3 Ws: wear a mask, wait 6 feet apart and wash your hands.